LIFT Launches "Operation Next" To Prepare Future Veterans for Civilian Careers
FT. CAMPBELL, Kent. – LIFT - Lightweight Innovations for Tomorrow, a Manufacturing USA national innovation institute—in partnership with the National Institute for Metalworking Skills (NIMS), Amatrol, and Gene Haas Foundation—today announced the launch of "Operation Next" - a new model for equipping separating military personnel with the skills and credentials needed for the most in-demand advanced manufacturing civilian careers in the country.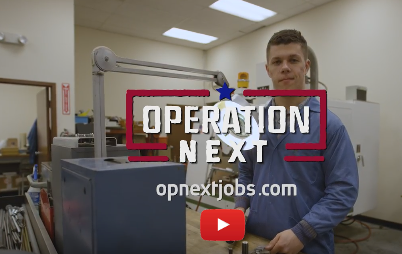 Manufacturing USA institution LIFT and partners have launched Operation Next to prepare separating military personnel for jobs in advanced manufacturing. Learn more about this program through this video.
This new national model provides high level technical training to separating soldiers while they are still on active duty, moving them from deployment to career in the shortest time possible and connecting them to some of the more than half-million open jobs in precision machining and industrial technology.
Operation Next brings market leaders in manufacturing training together in a full-service online learning platform that soldiers can access before leaving the service, accelerating their transition into civilian manufacturing careers. The hybrid training program combines self-directed virtual learning with hands-on lab work and gives soldiers foundational knowledge, practical real-world skills, and national industry credentials with immediate value in the labor market.