NextFlex FlexFactor Opens Doors for New Kinds of Students
One of the 2018 goals for FlexFactor®, NextFlex's project-based learning program in entrepreneurship and technology for high school students, is to broaden its reach to new student segments. Already this has been accomplished in two exciting ways. First, a class of eighth grade students participated in a version of FlexFactor that focused on optimizing a flexible version of an Arduino® (an open-source programmable microcontroller board) to develop new FHE-enabled product ideas designed to solve a human performance or health monitoring problem. The second new version of FlexFactor is called "Balance in STEM," which is designed to encourage diversity in advanced manufacturing career awareness and education pathways. Both pilots of the new FlexFactor versions were extremely well received by students, teachers and industry mentors.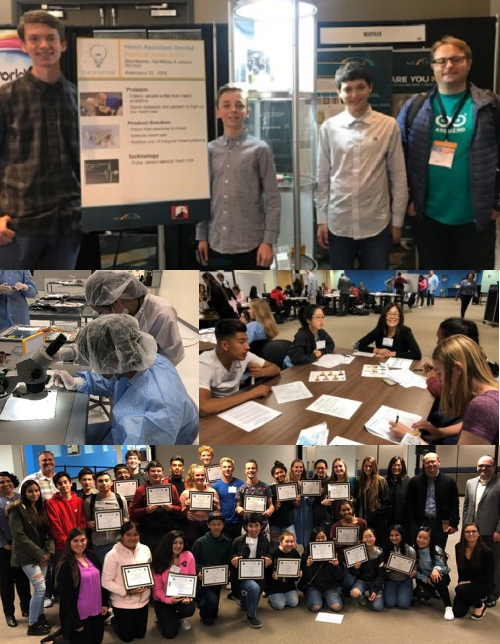 Left to right, from top: 1) Eighth grade FlexFactor students present their Arduino innovations to an Arduino VP at 2018FLEX; 2) Wilcox High School students Studying Printed Substrates at the NextFlex Technology Hub; 3) Wilcox High School students discussing FHE-enabled product ideas and business models; 4) Wilcox High School students earned FlexFactor Certificates of Completion
FlexFactor for Middle Schoolers
It is often heard that early exposure to STEM-based opportunities leads to skills desperately needed in the 21st century U.S. workforce and greatly increases the chance that students can be influenced to pursue STEM-based careers.  In January eighth grade students from a Dartmouth Middle School (San Jose, CA) Electrical Engineering class enjoyed a visit from NextFlex senior engineering manager Wilfried Bair. The students had just completed a learning module on the rigid version of the Arduino, but when Wilfried showed them the flexible version, they immediately began to see opportunities.
FlexFactor Sprint: Balance in STEM
Students from a Wilcox High School (Santa Clara, CA) biology class participated in the first FlexFactor Sprint: Balance in STEM program at NextFlex on Thursday, February 15th. During the event, students gowned up and toured the NextFlex Cleanroom where they observed and demoed cutting edge flexible technology processes associated with the research, development, and production of flexible hybrid electronics (FHE). NextFlex Fabrication Lab Process Equipment Integration Manager Tom Amato and his team provided demonstrations of printing, assembly, and testing procedures for flexible circuits.
Read more...