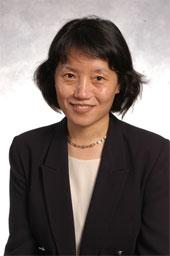 Education
M.S. Materials Science & Engineering - Stevens Institute of Technology
Ph.D. Materials Science & Engineering - Stevens Institute of Technology
Hong Liang is serving a fellowship as the Assistant Director for Research Partnerships at AMNPO headquartered at NIST in her capacity as a 2018-2019 ASME (American Society of Mechanical Engineers) Swanson Fellow.  She received her Ph.D. in Materials Science & Engineering from Stevens Institute of Technology.  
Hong is the Oscar S. Wyatt Jr. Professor in the Department of Mechanical Engineering at Texas A&M University. She is principal investigator and director of the Surface Science and Interface Laboratory.  Her research has been focused on advanced manufacturing processes, nanomaterials and structures, and material properties and performance in applications related to tribology, energy, sensing, and medical devices. Her academic career started at University of Alaska Fairbanks where she investigated surface melting behavior of ice and interfacial interactions between water, nanoabrasives, and polymers. While in semiconductor industry, she developed benchtop approaches to probe chemical-mechanical polishing (CMP), a key planarization process to fabricate integrated circuits. Her postdoc research at NIST was on machining of ceramics.  Her research has been widely published in about twenty books/chapters and more than two hundred journal articles. 
Hong has volunteered to provide extensive public services in various capacities.  Those include serving on the Board of Directors for the Society of Tribologists and Lubrication Engineers, as an Editor-in-chief of Tribology International, a frequent reviewer of more than 60 journals and research councils/foundations, and has mentored more than 150 students and scholars.