Additive Manufacturing, Impact, Network, Sustainability
America Makes proudly announces that it will commemorate the progress and contributions the Institute has made to advance the additive manufacturing (AM) industry on its fifth birthday on Wednesday, August 16th, at 2:00 P.M. EDT, at its Innovation Factory in Youngstown, OH. Additionally, the Institute's nationwide membership community will also be celebrating "virtually" via social media through the posting of photos or videos using the hashtag #AMfiveyears. Both America Makes Executive Director Rob Gorham and Founding Director Ralph Resnick will speak at this event, summarizing the achievements of the last five years, as well as what lies ahead for the Institute in the next five years.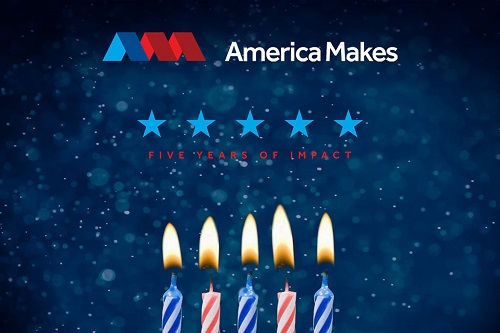 Manufacturing USA leaders celebrate Fifth Anniversary with America Makes at the Manufacturing USA Network Meeting in Gaithersburg in early August
"America Makes is the first Manufacturing USA institute to reach this initial five-year milestone," said Tracy Frost, Director, DoD Manufacturing USA Institutes, and Acting Director, DoD ManTech Program. As a public-private partnership, America Makes currently has a membership community comprised of more than 180 member organizations that create an innovation hub for AM where our nation's brilliant technical minds from industry, academia, and government work together to accelerate AM to increase our nation's global manufacturing competitiveness.  
Read more ...