The ARM Institute is pleased to announce the promotion of two team members to executive positions: Dr. Charles (Chuck) Brandt has been promoted from Vice President, Technical Initiatives to Chief Technology Officer and Suzanne (Suzy) Teele has been promoted from Vice President, Strategic Initiatives and Outreach to Chief Strategy Officer.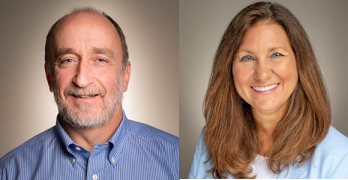 "Chuck and Suzy have been instrumental in the ARM Institute's success and in expanding our capabilities," stated Ira Moskowitz ARM Institute CEO, "The ARM Institute team congratulates Chuck and Suzy on their promotions and thanks them for their continued commitment to the ARM Institute mission."
These organizational changes reflect the increasing diversity of the ARM Institute's activities. Learn more about each team member and their new role below:
Dr. Brandt joined the ARM Institute in 2018 as Deputy Director, Technology Development before being promoted to Vice President, Technical Initiatives in December 2021. Dr. Brandt joined the ARM Institute from Innovation Works, where he was the Vice President of Technology Programs. Prior to joining Innovation Works, he was the CTO at the Technology Collaborative, both Pittsburgh-based organizations.
Suzy Teele joined the ARM Institute shortly after its founding in 2017 and has been instrumental in developing the ARM Institute's overall strategy and growing its consortium of 360+ organizations. Suzy has over twenty years of experience in business strategy, product management, customer acquisition and retention, marketing, sales, and business development.