Announcement, Biomanufacturing, Biopharmaceutical, Innovation, Manufacturing
The U.S. Department of Commerce's National Institute of Standards and Technology (NIST) has made two awards totaling $153 million to the National Institute for Innovation in Manufacturing Biopharmaceuticals (NIIMBL). The awards were announced today by U.S. Secretary of Commerce Gina Raimondo at the NIIMBL annual meeting in Washington, D.C.
NIIMBL is a public-private partnership designed to accelerate innovation in the U.S. biopharmaceutical industry, which produces vaccines, monoclonal antibodies, gene therapies and other medical products derived from biological sources. NIIMBL is a Manufacturing USA® institute sponsored by the Department of Commerce.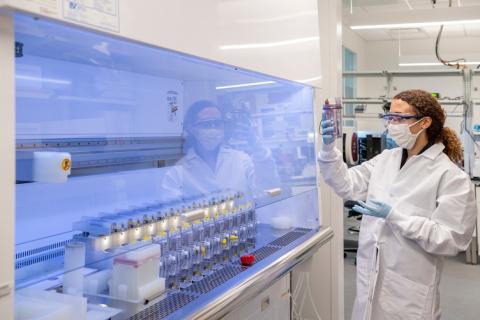 "I am so pleased that NIIMBL will continue to bring together organizations of all types to help strengthen our nation through better pandemic preparedness and a more agile manufacturing industry," said Secretary Raimondo, who was joined at the NIIMBL meeting by Senator Chris Coons of Delaware, Acting Commissioner of the Food and Drug Administration Janet Woodcock and Director of the FDA's Center for Biologics Evaluation and Research Peter Marks. "This important investment for America, funded in part by President Biden's American Rescue Plan, will help meet the nation's need for lifesaving biopharmaceuticals."
The first award renews NIST's federal sponsorship of NIIMBL, providing $70 million over five years with an equal, non-federal cost-matching requirement. This award will allow NIIMBL to continue driving innovation in domestic biopharmaceutical manufacturing by developing flexible, agile and cost-effective manufacturing processes that can be scaled up quickly and are less reliant on foreign supply chains.
NIST will also provide $83 million to NIIMBL over three years from the American Rescue Plan to support research and development to prevent, prepare for and respond to coronavirus outbreaks.
Note: NIIMBL's renewal for an additional five years of federal funding was conducted through a rigorous performance evaluation by an external panel. It is the first institute renewal using the new authority from the Manufacturing USA reauthorization. The Institute Evaluation Report can be found here.