Manufacturing USA
Manufacturing, Reports
The House and Senate Manufacturing Caucus hosted a Congressional Briefing and Expo on the Manufacturing USA Program on October 10th.  Entitled Manufacturing USA®: Securing U.S. Global Leadership in Advanced Manufacturing,  the event was sponsored by American Society for Mechanical Engineers (ASME) and showcased work done by Manufacturing USA in technology innovation and advanced manufacturing workforce development.  ASME gathered member companies from all 14 Manufacturing USA institutes, institute representatives, and technology demonstrators in the Rayburn House Office Building.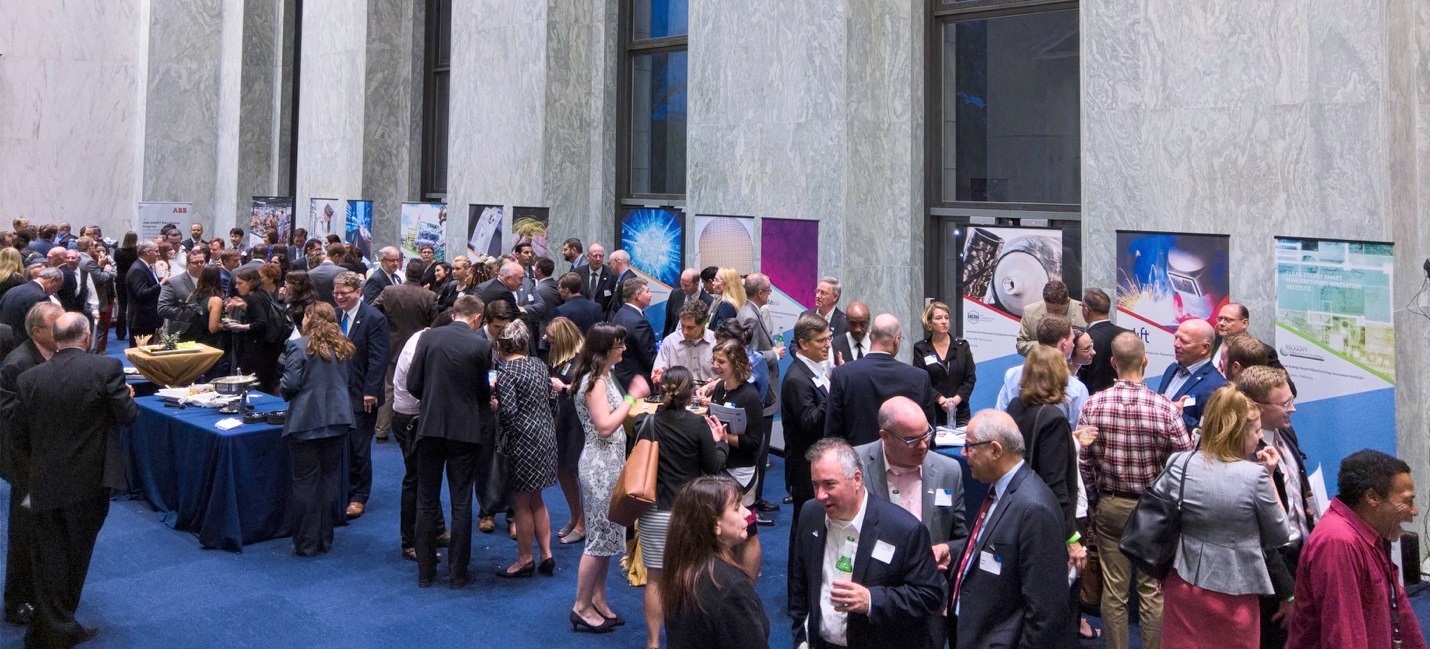 Over the past year, the Manufacturing USA program has positively impacted advanced manufacturing in the U.S. From providing training for veterans to advancing technologies developed in labs, Manufacturing USA is convening players across the manufacturing community to address the nation's pressing manufacturing technology and competitiveness needs.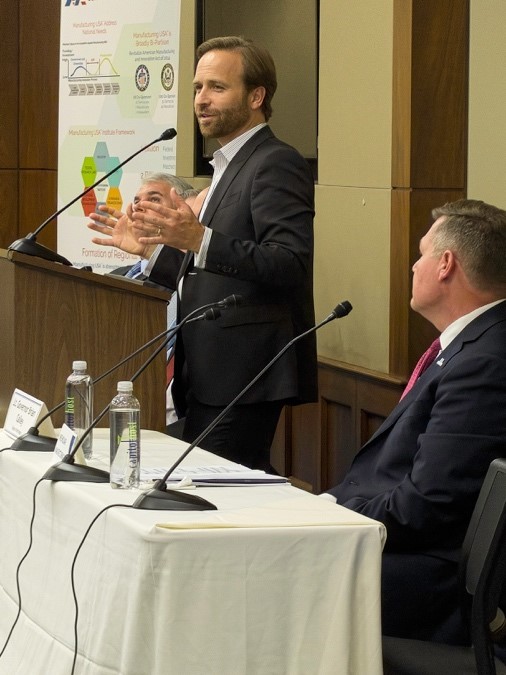 With close to 300 major, institute-sponsored collaborative applied research and development projects, along with education and workforce training programs across the country highlighted in the recently released Annual Report, it was challenging to pick just a handful to feature in the panel discussions and expo.
The ASME President, Dr. Said Jahanmir, delivered opening remarks to the 150 attendees. The panel's keynote speaker, Michigan Lieutenant Governor Brian Calley, then shared how two of the Manufacturing USA institutes, LIFT (lightweight metals) and IACMI (composites), are benefitting manufacturing in Detroit, the State of Michigan, and U.S. manufacturing broadly.
Industry Advances in Technology Enabled by Manufacturing USA
During the first panel, moderated by Mike Molnar from the Manufacturing USA Program Office, leaders from three industrial sectors — high power electronics, machine tools, and healthcare — described how the institutes create research collaborations that enable their companies and partners to produce innovative products in the U.S.
John Palmour, CTO and Founder of CREE, a leading company in LED lighting and power electronics, shared that "PowerAmerica creates an ecosystem where technology can thrive and shows that the impossible is possible."
CREE started when a small group working on semiconductor material, silicon carbide, commercialized the new technology.  His company has grown into a large, international manufacturing company with over 4,500 workers in the U.S. with products that focus on saving energy.  He joined PowerAmerica (wide bandgap semiconductors) because the institute helps de-risk innovative technology that companies can't support on their own because the market is too far away.  The work members are doing together in this space shows the viability of manufacturing that technology in the U.S. 
GE Global Research's David Davenport presented on the partnership with NextFlex (flexible hybrid electronics) to make it easier for patients to get the care they need by creating comfortable, wearable medical devices that provide continuous monitoring.  He described how NextFlex has enabled this technology which promises to improve patient outcomes and bring down healthcare costs by allowing patients' health to be monitored from home rather than in the hospital. 
And Gary Neidig, President and CEO of Indiana Technology and Manufacturing Companies (ITAMCO), told the story of how a family-run tool and die company became an advanced manufacturing company. This small manufacturer is a member of multiple institutes.  Why?  Before Manufacturing USA, companies like his found it difficult to collaborate with competitors. But today Manufacturing USA has made it possible and beneficial.  It has provided opportunities to advance his technologies and direct business opportunities through contacts made with other U.S. manufacturers. 
Developing an Advanced Manufacturing Workforce
The second panel, moderated by Emily DeRocco from the LIFT Institute, discussed experiences working with institutes to create programs that train and retrain existing workers and military veterans, as well as educate and train students to equip them with the skills they need for high-paying jobs in the modern manufacturing sector. 
The CEO of Ohio Manufacturers Association, Eric Burkland, explained that no one was investing in the infrastructure for collaboration needed for the U.S. to realize its manufacturing technology and workforce needs. He described how Manufacturing USA institutes fill that critical gap as neutral third parties pulling together partners from economic development, workforce, government, industry, and academia.  That is a key the benefit of Manufacturing USA from his perspective.
Lockheed Martin's Director of Emerging Technology, Linda Cadwell-Stancin, shared how the company is a member of many institutes and that the project work being done is critical because workers have the opportunity to learn by collaborating on hands-on projects. She provided a closer look at the work they are doing as part of the AIM Photonics institute and its AIM Academy to build the next generation integrated photonics workforce.
3D Veterans founder Michael Moncada described how working with America Makes allowed his organization to expand a life-changing additive manufacturing training program for veterans by introducing new hands-on, projects-based additive manufacturing technology training pilot programs for U.S. veterans in Pittsburgh and Los Angeles.  America Makes provided critical support, linkages with corporate and university sponsors, technical expertise, and curriculum guidance for hands-on, projects-based technology training to ensure that veterans gained the 3D printing job skills needed by employers today.  Veterans completing the training have gone on to high-paying, high-skill advanced manufacturing jobs. 
After the briefings, close to 250 people gathered in the Rayburn Foyer to see some of the technology being developed by Manufacturing USA institutes and their partners.  Highlights include:
Virtual reality/augmented reality equipment from Vision Three that can be used to provide powerful new ways to train technicians and engineers (DMDII)

Collaborative robot, YuMi®, from ABB that teaches people to use robots (ARM)

Lightweight, thin, flexible version of the hugely popular Arduino mini circuit board, Flexible Arduino® (NextFlex)

Digital technology from Covisus tiny surface features of an item to uniquely identify it from others of its kind to keep supply chains secure (DMDII)

Photonic integrated chips (AIM Photonics)

Flight suit with sensors to monitor vitals from DuPont (NextFlex)

Video demonstration of modular chemical process intensification (RAPID)

Video demonstration of a connected enterprise case study on how General Mills implemented digital systems to ensure that their gluten free products were truly gluten free — from the harvest field, to shipment containers, to various storage containers, and finally to the manufacturing of Cheerios (CESMII)

3D printed parts and prosthetics (America Makes)

Lightweight metal parts used by the Michigan fire department in first-of-its-kind firehoses to help first responders save lives and fight fires more efficiently. (LIFT)

Electrical fibers from that can be woven into cloth with LED lights that blink so fast that it's imperceptible to our eyes, but an app can receive a secret message (AFFOA)

Digital prototype of John Deere's high-power inverter for hybrid motors in heavy duty construction vehicles and trucks that has higher efficiency and fewer heat-related breakdowns compared with traditional transformer-based inverters.The company plans to hire American production workers in Fargo, ND, to manufacture and sell inverters starting next year. (PowerAmerica)
To learn more about how Manufacturing USA institutes and member companies are transforming our daily lives, improving economic and national security, and securing America's future, visit  https://www.manufacturingusa.com/institutes and join us!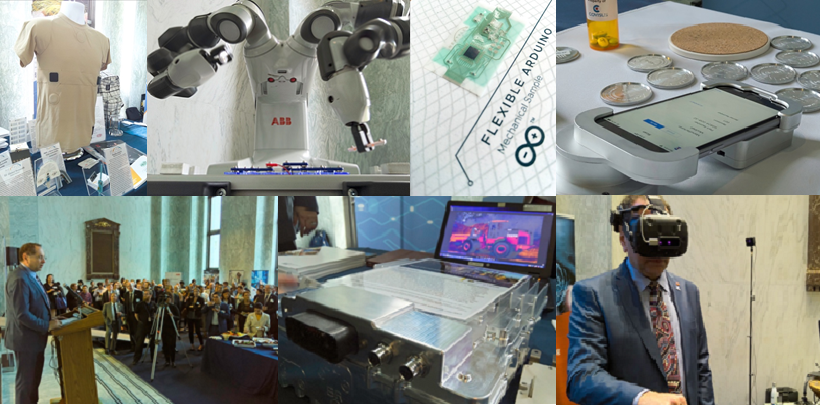 Over 250 people attended an ASME-sponsored Congressional Briefing and Expo showcasing work done by Manufacturing USA® in technology innovation and advanced manufacturing workforce development.  Attendees included Congressional staff, member companies from the 14 Manufacturing USA institutes, institute representatives, and technology demonstrators.