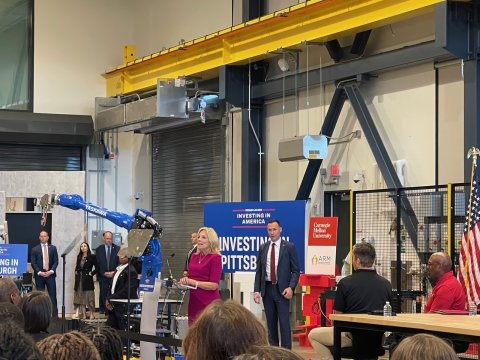 Today the ARM Institute welcomed Dr. Jill Biden, First Lady of the United States, and U.S. Acting Secretary of Labor Julie Su to our Mill 19 facility in Pittsburgh, PA, which we share with Carnegie Mellon University. The visit centered on Pittsburgh's Workforce Hub designation by the White House. Pittsburgh is one of five national Workforce Hubs where President Biden's Investing in America agenda—including the American Rescue Plan, Bipartisan Infrastructure Law, CHIPS and Science Act, and Inflation Reduction Act—are catalyzing private and public investments and creating good-paying jobs.
The Pittsburgh Workforce Hub is being led by Pittsburgh Mayor Ed Gainey's office. Through the Pittsburgh Workforce Hub, the ARM Institute is working with ARM Member New Century Careers on an initiative that will provide new, rapid, short-term, employer-driven training to help dislocated workers re-enter the workforce in good quality, high-demand manufacturing jobs using robotics. The ARM Institute will also leverage a new grant from the Department of Defense's Manufacturing Technology Program to expose more school-age children in the Pittsburgh region to manufacturing careers, by funding local nonprofit STEM Coding Lab to deliver robotics education to Pittsburgh-area Title I schools and expanding Manufacturing Day programs into rural areas.
Today's event builds off of the First Lady's prior visit to Pittsburgh this past July with Transportation Secretary Pete Buttigieg and acting Labor Secretary Julie Su at which Lisa Masciantonio represented the ARM Institute's work.