Education, Manufacturing Jobs, STEM, Workforce
NextFlex hosted the National Association of Manufacturers (NAM) and the California Manufacturing & Technology Association (CMTA) as part of NAM's fourth annual State of Manufacturing Tour across America. NAM President and CEO Jay Timmons, and Dorothy Rothrock, President of CMTA, and their teams visited with Malcolm Thompson, Executive Director of NextFlex, and attended a panel discussion highlighting the urgent need to build a modern manufacturing workforce in the United States.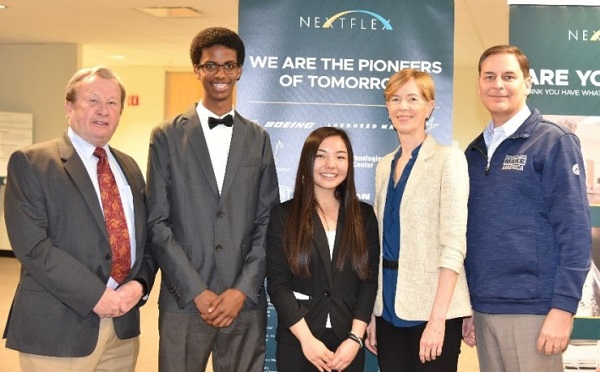 >Left to right: Malcolm Thompson, NextFlex; Students Ilyaas Sugal and Miyu Nakajima, Lincoln High School; Dorothy Rothrock, CMTA; and Jay Timmons, National Association of Manufacturers President and CEO.
Brynt Parmeter, the NextFlex Director of Workforce Development, Education, and Training led a live-streamed panel discussion that highlighted challenges and opportunities in support of the mission of each of the three organizations, and NextFlex was chosen as a site on their stop in Silicon Valley due to the close alignment of workforce development goals.
The program started with Malcolm, Jay and Dorothy welcoming viewers to the panel discussion, and provided a short introduction of each of their respective organizations. It was immediately obvious that the need for a trained workforce prepared to tackle 21st century manufacturing challenges and associated jobs, is a critical imperative within tech-intensive industries across the nation. Brynt jump started the panel by stating that in the broader FHE sector, there are 9.6M workers but there are also 1.4M job postings unfilled based on a 2016 Workforce Intelligence Network Report. Jay Timmons said that across all manufacturing sectors, that manufacturers will need to fill about 3.5 million jobs over the next seven years.
Read more...