COVID-19, Economy, Public Private Partnerships, Workforce
The COVID-19 pandemic has changed how we live and work. This newly released special report highlights how 9 institutes in the Manufacturing USA network worked with 91+ partners across 24 states and Puerto Rico on 36 manufacturing innovation projects to combat COVID-19.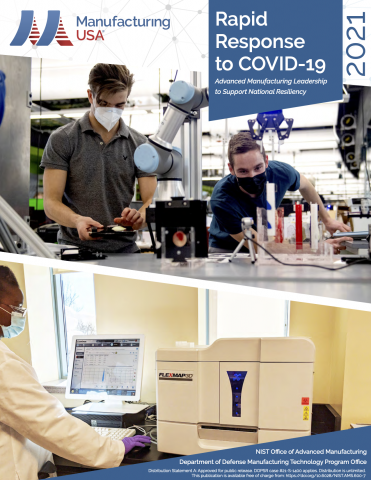 The institutes convened members from industry, academia, and government to enable a rapid response to the developing needs across America. The $73M in Coronavirus Aid, Relief, and Economic Security (CARES) Act funds from the Department of Commerce and Department of Defense propelled these public-private partnerships to quickly execute dozens of technology development and education and workforce development projects.
Manufacturing Innovations to Combat COVID-19
Project teams leveraged advanced manufacturing to address:
domestic personal protective equipment (PPE) supplies
enhanced production of vaccines and treatments
rapid testing; and
workforce training