Process Intensification, Workforce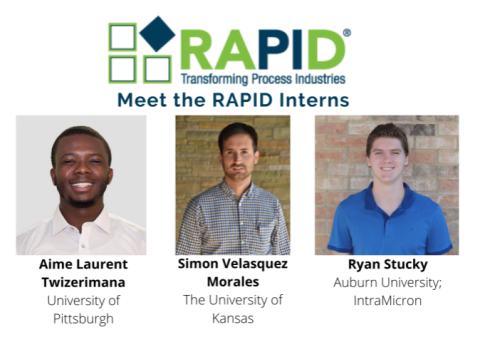 In this installment of the Meet the Fall 2021 RAPID® Interns spotlight series, we are highlighting three interns in the Fall 2021 program. Scroll down to learn more about Aime Laurent Twizerimana, a Ph.D. candidate at University of Pittsburgh; Simon Velasquez, a Ph.D. candidate at the University of Kansas; and Ryan Stucky, a senior at Auburn University who is currently in a co-op with IntraMicron, Inc.
The RAPID Intern Program is an exciting opportunity for students working with RAPID members. It is a virtual PI leadership program which overlays on the work students are already doing at RAPID member organizations and provides students with PI leadership training and professional development skill-building opportunities like networking, career discovery, and public speaking/presenting. Click here for more information and to nominate a student.