Worcester Polytechnic Institute
Education, Photonics, Workforce
Worcester Polytechnic Institute and Quinsigamond Community College will launch the second AIM Photonics Academy Lab for Education & Application Prototypes (LEAP). The comprehensive joint laboratory will support the growth of the burgeoning integrated photonics industry across the Northeast, while also providing training and education to help build a skilled integrated photonics workforce in Central Massachusetts.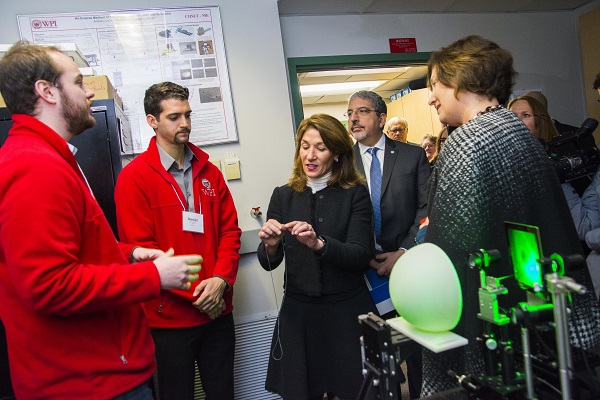 Massachusetts Lt. Gov. Karyn Polito, tours a WPI lab with Quinsigamond Community College
"This exciting new endeavor in AIM Photonics will have a major impact on advancing photonics activities throughout the Northeast," said WPI President Laurie Leshin in a recent press release. "As a highly specialized field with real growth potential, integrated photonics will also have a significant impact on the region through workforce development and economic expansion. It's especially gratifying for WPI to partner with Quinsigamond Community College, building on nearly a half century of collaboration on a variety of academic and industry initiatives in Worcester County."
The release quoted QCC leaders lauding the partnership. "The collaboration between QCC and WPI combines the core strengths of both institutions in order to help drive the future of advanced manufacturing in the region through accelerated photonics innovation and workforce development and training," said QCC President Luis G. Pedraja. "We must think beyond the confines of the past and look toward the future. LEAP is a giant step for the manufacturing and educational sectors in Central Massachusetts and beyond."
Read more ...