Digital Manufacturing, Education, Manufacturing Jobs, Workforce
The Digital Workforce Succession in Manufacturing report, released today by UI LABS and ManpowerGroup, is the first to offer such a comprehensive workforce playbook to help companies develop a talent pipeline for existing and future factories. The research includes in-depth profiles for 20 roles that span a range of "digital" technologies and business practices, such as virtual reality/augmented reality systems specialist.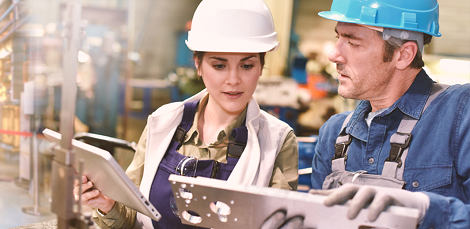 Photo of a man and woman inspecting a manufactured part and comparing it to digital information about the part on a tablet computer.
"The new roles we have identified will help prepare American workers for the technological shift that is underway, providing attractive, well-paying jobs for the next generation of manufacturers," said Caralynn Nowinski Collens, CEO of UI LABS.  Jonas Prising, Chairman and CEO of ManpowerGroup adds, "By mapping the digital roles and skills of the future, our research will help companies and schools upskill today's manufacturing workforce for the connected, smart machine and augmented-technology jobs of an increasingly digital enterprise. This will help bridge the skills gap and highlights the advanced and attractive jobs emerging on the forefront of the manufacturing sector."
Read more ...