Additive Manufacturing, Education, Fabrics, Flexible Hybrid Electronics, Materials, Photonics, Power Electronics, Robotics, Sustainable Manufacturing, Workforce
Manufacturing evolved in the United States through geographic clusters that produced competitive advantages in expertise, scale of operations, research prowess, and skilled labor. The origin of the automotive sector is an example of a regional cluster, with vehicles assembled in the Detroit area from parts and components manufactured in the upper Midwest. Another would be the evolution of personal computers and microelectronics in the San Jose area, which became known as Silicon Valley.
Viewing a group of companies and institutions as a regional cluster (or what's also often called a regional ecosystem) highlights opportunities for coordination and mutual improvement which benefit the industry, local communities, and national competitiveness. The ecosystem fosters not only incubation of key technologies in the industry but also helps accelerate the scaling and commercialization of the sector. Being part of these regional networks helps firms build and maintain competitive strength in global markets.
Typically, there are three key components that define an advanced manufacturing cluster:
A cluster of nationally or internationally "traded" private companies, which are the engines of regional economies
Research organizations, such as major universities, government and private sector labs, and other supporting institutions, such as trade organizations that intersect with manufacturing
A skilled workforce
Workforce Development is Key in Every Regional Cluster

Workforce is a key component for any regional manufacturing cluster, especially as new technology is developed and changes the nature of job duties. Manufacturing USA network institutes have been at the forefront of advancing workforce initiatives in major regional clusters.

 
Manufacturing USA applies a cluster-based approach to connect people, ideas, and technology, by developing regional ecosystems of government research institutions, universities, and private sector industry members.
The Manufacturing USA network has grown to include 16 manufacturing innovation institutes that have advanced 270 technologies toward commercialization. Here's a look at how Manufacturing USA institutes are driving growth in key regional clusters.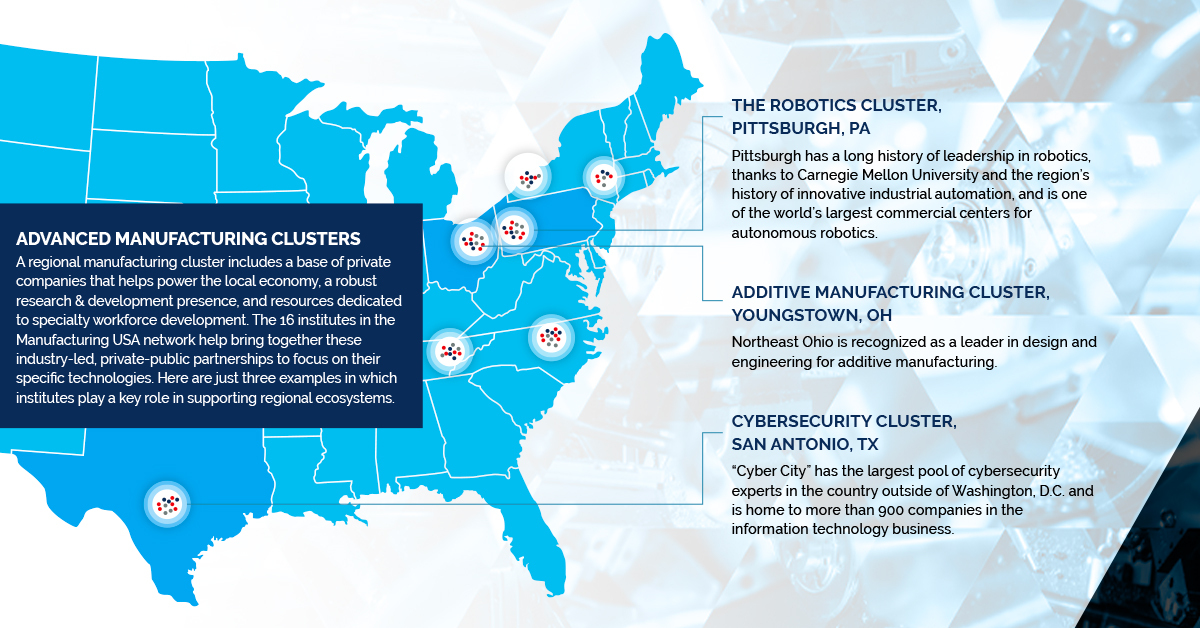 How the ARM Institute is Accelerating the Robotics Cluster in Pittsburgh
The role an institute can play in accelerating an existing regional cluster is clearly seen in Pittsburgh with the ARM Institute's impact since it opened in 2017. Pittsburgh has a long history with robotics, starting with General Electric in 1927.  Carnegie Mellon University's Robotics Institute, established in 1979, has been a particular academic powerhouse in this ecosystem for more than 40 years.
The robotics and artificial intelligence industries grew dramatically around 10 years ago with about 20 companies gathering in the "Robotics Row" area of the city, including Uber and companies working on technology for autonomous vehicles. The region has seen explosive growth in the past few years with an emphasis on manufacturing applications such as assembly, packaging, and warehouse distribution.
"One of the challenges in emerging technology sectors is defining the landscape," said Joel Reed, executive director of the Pittsburgh Robotics Network (PRN). "That includes identifying companies and their competencies, connecting industry members, and providing a roadmap to address gaps and opportunities."
In the past 18 months, PRN has grown the list of local "identified commercial companies" from 40 to 105. There are another 40 organizations in academic and support areas.
Pittsburgh has breadth and depth in the robotics sector, according to Reed. He credits the ARM Institute with leading on two crucial fronts – workforce development and technological innovation.
"You need someone who can lead the national conversation on workforce development, but you also need someone who can work on a command line and be able to turn a wrench," Reed said. "ARM has proven to be extremely valuable in this ecosystem, from creating conversation and addressing key topics, to bringing groups together to collaborate. It's not just about hardware, software, and integrated systems. It's also about supplying the industry with installers, assemblers, and service technicians."
CyManII Connects Manufacturing to Cybersecurity Cluster in San Antonio
CyManII is based in San Antonio, which hosts the largest concentration of U.S. cybersecurity operations outside of Washington, DC, including:
Four military bases, known as Joint Base San Antonio
The top-rated cybersecurity program at The University of Texas at San Antonio, which also is launching a $100 million investment via the National Security Collaboration Center
Three cyber-focused research centers
A large concentration of private sector companies focused on industry cyber preparedness, secure software and hardware design, engineering, and energy efficiency
CyManII recently announced a roadmap to help all manufacturers strengthen their cybersecurity infrastructure. The institute brought together stakeholders to develop a
national cybersecurity plan to focus manufacturers on processes that are data-intensive, digitized and include emergent technologies such as artificial intelligence and machine learning.
The institute is now forming the Texas Manufacturing x Transformation Hub at the Port San Antonio innovation campus. The state-funded, $5 million, 14,500-square-foot facility will assist companies to become compliant with federal cybersecurity certifications to ensure preparedness of 1 million manufacturing workers by 2026.
America Makes Drives Manufacturing Transitions in Youngstown, Ohio
Clusters do not have to be as large as Silicon Valley to have a powerful impact on their regions. For example, Youngstown, OH, is an emerging center in the additive manufacturing and 3D printing universe.
About 40% of automobile drive trains are produced in Ohio, but that market share is at risk with the electrification of vehicles – resulting in a major threat to the regional economy. America Makes in Youngstown, which predates the Manufacturing USA network, was the first institute of its kind when it opened in 2012. Its successful pilot paved the way for the launch of the network. It has played a major role in the retooling of Northeast Ohio to become a hub for additive manufacturing and 3D printing innovation.
The institute has more than 225 members, 36 of which are from the Youngstown area. Most importantly, several successful companies have relocated to the region to leverage the assets and network, including Humtown, Fitz Frames, and JuggerBot3D.
The Youngstown Business Incubator has pivoted to become dedicated to additive manufacturing startups, and stakeholders have created the Additive Manufacturing Cluster of Ohio to leverage strengths and address gaps. This growing cluster helps to offset the decline in traditional automotive manufacturing.
Regional Clusters in Other Emerging Technologies
Other institutes are playing a leading role in regional clusters for emerging technologies. They include, but are not limited to:
IACMI and the "Carbon Fiber Valley" in East Tennessee: The region has become an epicenter for carbon fiber and advanced composites by leveraging investments from automakers, the University of Tennessee, and the Department of Energy's Manufacturing Demonstration Facility and the Carbon Fiber Technology Facility at Oak Ridge National Laboratory.
AIM Photonics and the I-90 corridor from Rochester, NY, to Boston: The institute's multi-project wafers are fabricated at the Albany Nanotech Complex and are tested and packaged at the institute's facility in Rochester. Both facilities have some of the most advanced machinery in the world for integrated photonic circuits.
PowerAmerica and the Research Triangle CleanTech Cluster in Raleigh-Durham, NC: This hub focuses on clean energy systems and smart utility technologies. This is a fairly recent addition to the region's Research Triangle, but it already includes industry powerhouses such as Duke Energy, ABB and Siemens. PowerAmerica plays a key role in wide bandgap semiconductor technology that can lower energy consumption in electric vehicles, consumer electronics, renewable energy generation, and power distribution.
Some Institutes Are Supporting Clusters Throughout the Nation
The institutes in the Manufacturing USA network are not limited by geography; they work with partners nationwide. In many cases, the institutes strive to support industry clusters in regions far away.
The BioPharma industry is a good example, with massive centers of well-established research and development in the Bay Area, Boston, San Diego, and North Carolina and a growing number or smaller clusters throughout the country. NIIMBL is based in Delaware, which makes it accessible to some mature clusters and emerging ones.
AFFOA, though it is based in Massachusetts, plays a significant role with partners in the Southeast, which is the geographical center of textile production in the United States; 93% of U.S.-made textile components are produced within North Carolina and its bordering states. AFFOA and its partners in North Carolina have established a statewide advanced textile manufacturing advisory board and are conducting a demand-side workforce gap analysis and an educational asset map that includes industry-recognized credentials and education pathways. They are developing a workforce strategy that includes a focus on robotics, automation, 3D printing, and cybersecurity.
CESMII is among the institutes working on cross-cutting process challenges that support a large swath of manufacturers as opposed to a specific industry. It has seven Smart Manufacturing Innovation Centers located at major universities and industry sites across the country.
NextFlex, which is based in San Jose, recently approved a third regional node for Missouri to expand its work in Flexible Hybrid Electronics (FHE). The institute has nodes in Massachusetts and New York. These areas were chosen due to concentrations of members with complementary capabilities in flexible hybrid electronics and commitment for funding from each of the states to support local companies in funded projects.
A Fresh Perspective on Advanced Manufacturing
Institutes in the Manufacturing USA network are helping to accelerate the impact of regional ecosystems throughout the country, strengthen the competitive position of US manufacturing companies, and provide pathways to Americans seeking rewarding, living-wage jobs. All of this contributes to stronger local, regional, and national communities.
The 17 institutes of the Manufacturing USA network are funded through the departments of Commerce, Defense, and Energy and from private sector industry members. In 2021, the institutes collectively worked with over 2,300 member organizations to collaborate on more than 700 major technology and workforce research and development projects and engaged over 90,000 people in advanced manufacturing training. State, industry, and federal funds contributed $480 million to these activities.
To learn about the many ways in which institutes help accelerate technology adoption to improve American manufacturing's global competitiveness, visit the Institutes page.