Bioengineering, Manufacturing, Photonics
The American Institute for Manufacturing Integrated Photonics (AIM Photonics), a Manufacturing USA institute, announced the successful conclusion of its Fall 2018 Members Meeting, which took place on Tuesday, October 23, alongside the Emerging Technology Showcase at the 2018 NYSTAR Annual Meeting in Syracuse, New York. The engagement was a unique opportunity for the initiative's growing list of more than 100 members from industry, academia, and government to discuss opportunities to collaborate on advanced photonic integrated circuit technology design, manufacturing, and commercialization.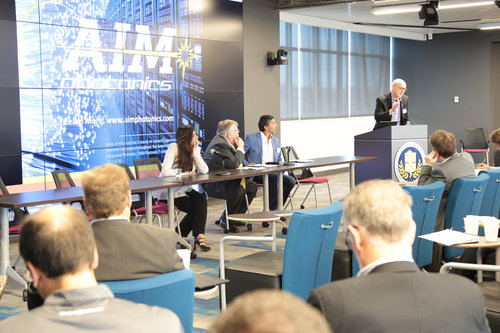 "We are thrilled to hold AIM Photonics' Fall 2018 Members Meeting to further enable collaborations amongst members of this burgeoning national initiative, with engaging presentations by new members, industry, and government leaders, in addition to globally recognized researchers," said Dr. Michael Liehr, AIM Photonics CEO and SUNY Poly Executive Vice President for Innovation and Technology. "This success of this latest meeting is a testament to the innovation-focused ecosystem which the AIM Photonics initiative has created, driving the cross-pollination of game-changing ideas to initiate technological progress in this field which is rife with potential."
Among the technology highlights from the Members Meeting, AIM Photonics leaders and partners discussed the latest Process Design Kit, which was developed and recently announced by Analog Photonics and SUNY Polytechnic Institute. The PDK provides small and medium sized organizations with a key resource for the development of the baseline technology and design of the products to be manufactured, benefitting from the expertise of leading partnering design companies.
Read more...