Additive Manufacturing, Workforce
America Makes continues to fulfill its mission of building an additive manufacturing (AM) talent pipeline across the state of Ohio with the announcement of the Ohio Secondary Education Additive Manufacturing Training Network.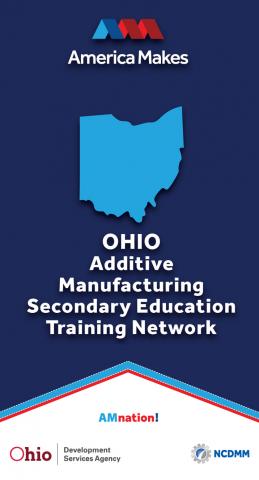 Created in collaboration with and support from the Ohio Development Services Agency (OSDA), this network will provide formal education and training of AM technologies to high school students and their educators to ensure the next generation of Ohio workers are equipped with the skills to fill advanced manufacturing jobs. Initially, 10 high schools statewide, including those in both urban and rural settings and representing public, charter, and career and technical schools are participating in the network. This America Makes Education and Workforce Development (EWD) program is funded through the Fiscal Year 2020-21 State of Ohio operations budget.
According to the 2020 Ohio Manufacturing Report by the Ohio Manufacturing Extension Partnership (MEP) & MAGNET, 57% of Ohio's manufacturers indicated that the skilled worker shortage is the number one challenge impeding business growth. The Ohio Manufacturing Report aligns with national findings released by a 2021 study from Deloitte and The Manufacturing Institute, which projects that by 2030 more than 2.1M U.S. manufacturing jobs are likely to go unfilled. The reason? The manufacturing skills gap. Eighty-two percent of those national respondents also reported that revenue growth is stagnating because of the inability to find skilled talent.