The Advanced Robotics for Manufacturing (ARM) Institute today announced that consortium member Wilder Systems (WS) has created a robotic cell for testing potential COVID-19 samples that is now in production in Austin, TX. The Department of Commerce's National Institute of Standards and Technology (NIST), through the CARES Act, provided funding to the ARM Institute to collaborate with Wilder Systems to develop this technology.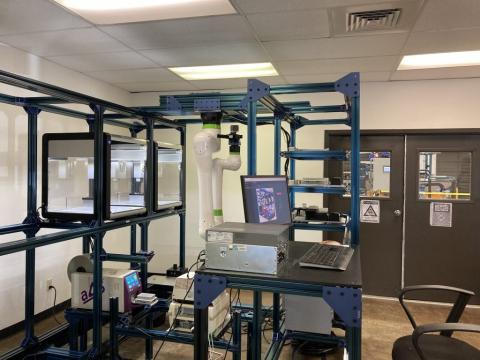 The ARM Institute is leading the way to a future where people and robots work together to respond to the nation's greatest challenges and to develop and produce the world's most desired products. One of 16 Manufacturing USA® Institutes across the United States, it is sponsored by the Department of Defense. The Institute operates as a national consortium of almost 300 member organizations who are experts in manufacturing, robotics, and workforce education.
The WS solution addresses one of the biggest challenges in COVID-19 testing: the lack of sufficient personnel to analyze samples and provide test results. Rapid testing for COVID-19 has become vital to mitigating its spread. Throughout 2020, Americans were turned away from testing centers due to limited laboratory capacity to analyze the samples. People who were fortunate enough to be tested at all often had to wait a week or more to learn their results, effectively making them useless. The equipment to complete quantitative identification of nucleic acids from infective organisms exists at most hospitals and universities, but there are not enough technicians to operate at full equipment capacity. By automating this process with robotics, more people will have access to testing and the results of those tests can be made available sooner.