Education, Robotics, Workforce
The ARM (Advanced Robotics for Manufacturing) Institute is pleased to announce that it is a recipient of a $14.2 million grant through the federal Build Back Better (BBB) Regional Challenge awarded by the U.S. Economic Development Administration. The ARM Institute is the nation's leading collaborative in robotics and workforce innovation, working at the confluence of industry, government, and academia. Structured as a public-private partnership, ARM and its member organizations catalyze robotic technologies and education solutions to strengthen the U.S. industrial base, protect our warfighters, and secure U.S. manufacturing resiliency.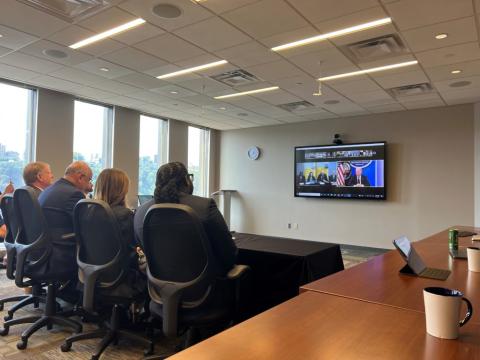 The ARM Institute is one of several southwestern PA organizations who share in a $62.7 million grant to the Southwestern Pennsylvania New Economy Collaborative to a build robotics and autonomy cluster and grow opportunity for all people and places in an 11-county region encompassing Allegheny, Armstrong, Beaver, Butler, Cambria, Fayette, Greene, Indiana, Lawrence, Washington, and Westmoreland.
The southwestern Pennsylvania region is one of only 21 applicants receiving this grant funding, chosen from the 60 finalists involved in Phase 2 of the Build Back Better challenge. Phase 1 of the challenge received 529 application submissions, of which southwestern Pennsylvania was chosen as one of the 60 applications to move to Phase 2.
As part of the overall regional effort to build the robotics and autonomy cluster and grow opportunity, the ARM institute will create a Robotics Manufacturing Hub at its location in Mill 19 in the Hazelwood area of Pittsburgh. The goal of this Hub is to de-risk the adoption of advanced robotics and automation technology for small and medium manufacturers to accelerate the use of robotics technologies in these entities.