Composite Recycling Technology Center Produces First-Ever Automotive Seatback Using Recycled Carbon Fiber
Port Angeles, WA, September 18, 2017 … The Composite Recycling Technology Center (CRTC) and ELG Carbon Fibre Ltd jointly demonstrated the manufacture of an automotive seatback made from recycled carbon fiber composite, at the Automotive Lightweight Materials Summit in Detroit, Mich., on Aug. 22-24, 2017.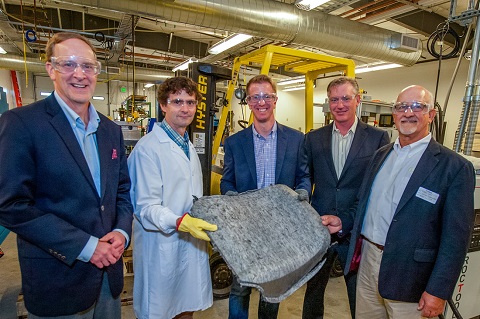 Left to right: CRTC Chief Executive Officer David Walter, CRTC Fellow and VP of Innovation Geoffrey Wood, U.S. Rep. Derek Kilmer, Washington State Department of Commerce Clean Energy Sector Lead Brian Young, and Loren Lyon, President and Center Director of Impact Washington stand together around the seatback preform on August 8, 2017.
The tooling was supplied in partnership with the Institute for Advanced Composites Manufacturing Innovation (IACMI) of Knoxville, Tenn.
The goal of the project was to demonstrate manufacturability of the materials, to test flow and compaction into the various features, and to provide samples for non-destructive and destructive testing. The project successfully addressed all issues to develop final prototypes. It will lead the way forward to entering production in automotive interiors with fast-cycle molding of recycled carbon fiber/thermoplastic materials at highly competitive costing. ELG, CRTC, and IACMI look forward to the next steps in the development efforts and pursuing production opportunities in high-volume applications.
"This is a very exciting project and I am very proud of the entire team who worked hard to turn this seat from a vision into reality," said David Walter, CRTC CEO. "The close collaboration with the team from IACMI and ELG made this project a big success."