AFFOA
,
AIM Photonics
,
America Makes
,
ARM
,
BioFabUSA
,
BioMADE
,
CESMII
,
CyManII
,
IACMI
,
LIFT
,
MxD
,
NextFlex
,
NIIMBL
,
PowerAmerica
,
RAPID
,
REMADE
Collaboration, COVID-19, Emerging Technologies, Manufacturing, Supply Chain, Sustainability, Workforce
This past year brought the country and our world unprecedented challenges, which now present opportunities to innovate and build a new path forward. Using lessons from this year, the manufacturing industry is poised to undergo a transformation.
Supporting this work are the institutes that are part of Manufacturing USA®, a national network of public-private partnerships united to secure U.S. global leadership in advanced manufacturing through large scale collaboration on technology, supply chain, and workforce development. The network includes the U.S. Departments of Commerce, Defense, and Energy, their 16 sponsored manufacturing institutes, and six other federal partner agencies – the National Aeronautics and Space Administration, National Science Foundation, Health and Human Services, and the Departments of Agriculture, Education, and Labor.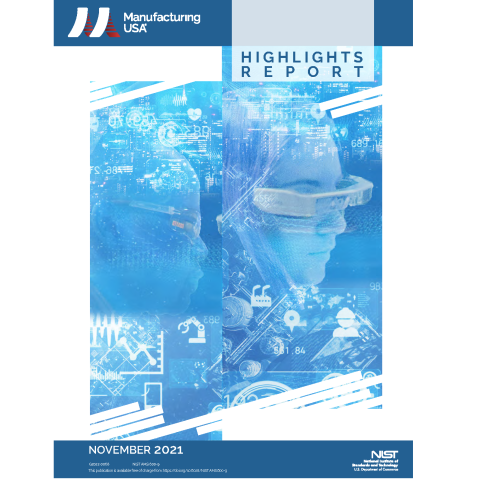 In 2020, the 16 manufacturing innovation institutes:
Collaborated with 2,000+ Member Organizations, of which 62% are manufacturers and 2/3 are from companies with fewer than 500 employees, to conduct more than 500 applied research and development technology projects, and to train more than 70,000 people in advanced manufacturing, 
Attracted $262M from state, federal and private investment funds beyond the $163M in base federal funds – a 1.6 to 1 investment match
Leveraged $73M in Coronavirus Aid, Relief, and Economic Security (CARES) Act funds from DOC and DoD to quickly work with 91+ partners on more than 36 rapid response projects to combat COVID-19 through manufacturing innovation
Built large-scale public-private partnerships to develop advanced manufacturing technologies, empower the advanced manufacturing workforce, and build innovation ecosystems
Helped secure U.S. global leadership in advanced manufacturing and ensure American inventions are Made in America