AFFOA
,
AIM Photonics
,
America Makes
,
ARM
,
BioFabUSA
,
BioMADE
,
CESMII
,
CyManII
,
IACMI
,
LIFT
,
MxD
,
NextFlex
,
NIIMBL
,
PowerAmerica
,
RAPID
,
REMADE
Manufacturing
Manufacturing USA's program office along with 7 manufacturing innovation institutes attended the Smart Manufacturing eXperience (SMX) in "Steel City," Pittsburg, PA. With a focus on combating the challenges and opportunities to adopt smart manufacturing technologies faced by small and medium-sized manufacturers (SMMs) and others in the industry, the institutes promoted advanced technologies and building the technical workforce needed to foster innovation and bring manufacturing back to the U.S.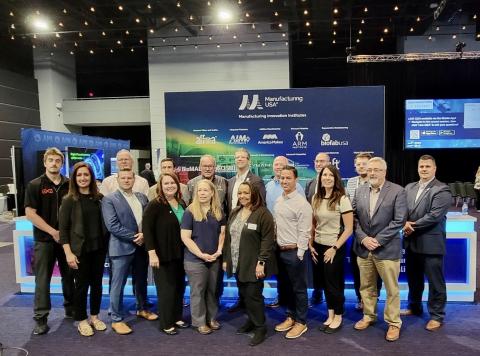 The SMX showcased the network of institutes and the broad range of technologies covered within the Manufacturing USA network, from additive manufacturing to cyber security. All 7 participating institutes took the Smart Zone stage to discuss the work they are currently focused on, how they are supporting programs, and promoting partnerships to increase technology adoption and workforce engagement. Each focused on their unique mission guided by their sponsoring agencies (U.S. Department of Commerce, Department of Defense, or Department of Energy) and how academia, government, and manufacturers of all sizes can contribute to securing global leadership in advanced manufacturing.
The Institutes
These institutes are large-scale public-private collaborations on technology, supply chain, and education and workforce development. Last year, they worked with over 2,300 member organizations on more than 700 major projects and engaged over 90,000 people in advanced manufacturing training. The combined contribution of almost $500 million dollars from state, industry, and federal funds allows the Manufacturing USA network of institutes to continue to find solutions to America's current and future challenges and strengthen the economy, ensure our national security, empower the current and future workforce, and improve our everyday lives.

We look forward to the innovative initiatives from the network this year. If your organization is interested in becoming a member please contact our office at manufacturingusa@nist.gov or find an institute at https://www.manufacturingusa.com/institutes.