Bioengineering, Biomanufacturing, Education, Workforce
The Minnesota Senate Jobs and Economic Development Committee today held an informational hearing on BioMADE today as part of a discussion on S.F. 2598, which would empower BioMADE to create a bioindustrial manufacturing innovation and production campus in Minnesota. This first-of-its-kind project would put Minnesota in the center of a 21st century transformation to American manufacturing.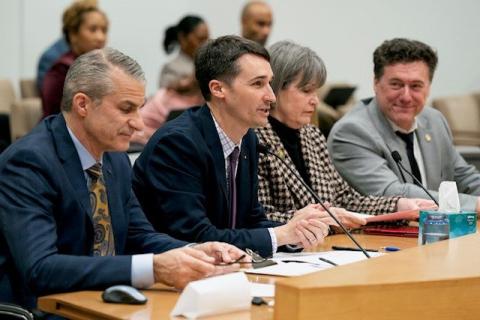 "There is a critical need for domestic pilot-scale bioindustrial manufacturing infrastructure to catalyze the next-generation bioeconomy. Today, U.S. companies are often required to go overseas to access these facilities, which causes delays and increased costs that hamper U.S. competitiveness," said Dr. Douglas Friedman, BioMADE CEO. "BioMADE is working to establish a network of pilot facilities nationwide and we're thrilled that Minnesota is poised to take a leadership role to establish the first of these on an innovation and production campus."
The cornerstone of the campus will be a state-of-the-art pilot plant that will attract industry, inspire innovation, and create well-paying jobs. The pilot plant would seed the development of additional commercial-scale bioindustrial manufacturing production facilities on the same site.
"Building this campus here will make Minnesota an epicenter of the movement to revolutionize manufacturing," said Rep. Betty McCollum (MN-04), Ranking Member of the Defense Appropriations Subcommittee. "If we embrace this moment and this opportunity, Minnesota can be at the head of the table and lead the nation. Products of the future will be made with biomanufacturing. If we act, we can make them right here in Minnesota. A brighter future for our nation starts here."