Event, Lightweight Materials, Materials
America Makes, in partnership with the University of Texas at El Paso (UTEP), will host the 2023 Spring Technical Review & Exchange (TRX) on March 7-8 at the Hotel Paso Del Norte, located at 10 Henry Trost Court in downtown El Paso, TX. Event registration is underway and hotel accommodations can be made through this exclusive LINK, offering a special rate for attendees.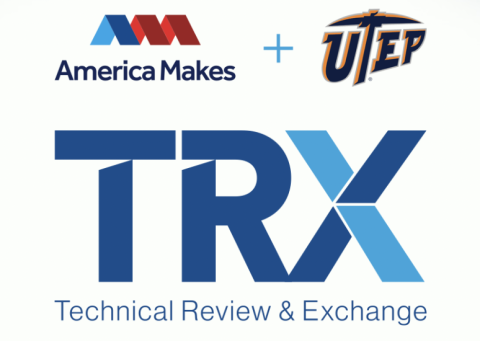 Open to members as well as non-members, TRX is a meeting that showcases the ongoing and successful America Makes projects portfolio by sharing the research and development of additive manufacturing (AM) within the Institute's contracted project efforts. TRX allows the opportunity for members and partners to host the event platform to increase awareness within their region and ecosystem by inviting keynote speakers, their network, and stakeholders. The platform showcases the abilities and efforts of America Makes to collaborate, catalyze and convene the AM ecosystem. By working with members and industry partners, America Makes hopes to further advance its mission of accelerating the adoption of AM and the nation's manufacturing competitiveness.
"We are proud to again partner with UTEP – our first satellite center location, for the Spring TRX as we work to disseminate our understanding of AM technology and continue to share with various regional manufacturing ecosystems," stated Brandon Ribic, Technology Director, America Makes.
The two-day agenda will feature a variety of expert presenters from the AM supply chain. Topics will include discussions on material allowables generation, cold spray implementation and installation qualification, AM material and process qualification, digital twin technologies, and more. "This is a prime opportunity for technical experts to take a deep dive into the innovative work in process at the Institute while allowing those in attendance the chance to talk and network with project principals and top researchers," noted Ribic.