Manufacturing USA
Manufacturing, Reports
Manufacturing USA® today released its 2018 Annual Report, describing innovations underway at the 14 Manufacturing USA institutes, with member organizations across the country focused on technology and workforce development. The report highlights the institutes' work in moving discoveries from the nation's universities and research laboratories into production in the U.S. It also details some of the institutes' successes in developing world-changing manufacturing technology and equipping the U.S. manufacturing workforce with the high-value skills needed to make tomorrow's products.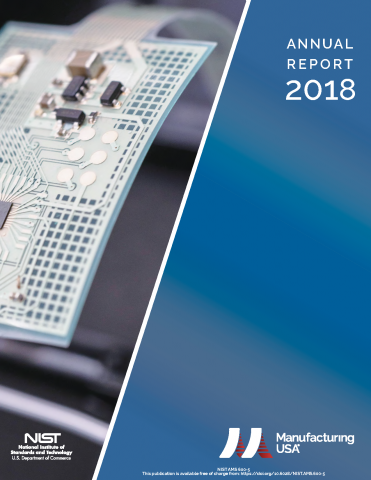 Results
In 2018, the 14 Manufacturing USA institutes, sponsored by the U.S. Departments of Commerce, Defense, and Energy:
Conducted over 475 major applied research and development collaboration projects of high priority to broad industry sectors. 
Engaged 1,937 member organizations, an increase of 50%.   Sixty three percent of members are manufacturing firms and 70% of these industry members are small and medium manufacturers, which are key to the U.S. manufacturing supply chain.
Helped more than 200,000 workers, students, and educators through institute workforce efforts. Institutes continued their leadership in workforce training, increasing cross-institute collaborations and sharing of best practices. The result was tremendous engagement in institute-led workforce development efforts, including educator/trainer instruction and development of science, technology, engineering, and mathematics (STEM) activities. 
Leveraged $183 million in federal funds to attract $304 million in state and private investment, representing a remarkable catalyzing effect of matching investment and the importance of advanced manufacturing to the future success of state and local economies. 
Background
Created in 2014, Manufacturing USA serves to secure U.S. global leadership in advanced manufacturing.  The institutes are public-private partnerships which assist American manufacturing enterprises in developing new products and new production technologies needed to accelerate the pace of economic expansion. Since advancement of new technologies requires new skill sets for the U.S. workforce, the institutes and their industrial partners collaborate with local school systems and academic institutions to promote and develop the advanced skills needed for the future manufacturing workforce to make tomorrow's products. Federal support for these institutes creates a framework that allows industry, academia, and federal laboratories to work together to take the most promising new technologies and transform them into products to be Made in America.
Citation information:
Manufacturing USA Annual Report, Fiscal Year 2018, Advanced Manufacturing National Program Office, National Institute of Standards and Technology, Department of Commerce (2019), https://doi.org/10.6028/NIST.AMS.600-5.
Contact: Advanced Manufacturing National Program Office - (301) 975-2830