Manufacturing USA
Manufacturing, Reports
The Manufacturing USA® network continues to secure U.S. global leadership in advanced manufacturing through public-private collaboration on technology, supply chain and workforce development. This work enhances the nation's industrial competitiveness, economic growth, and national security.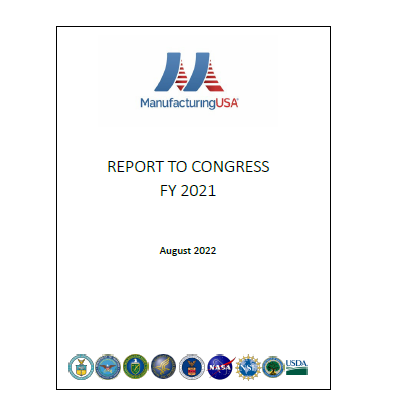 In FY 2021, the Manufacturing USA network collaborated across agencies and institutes to share research progress and discuss lessons learned from the COVID-19 pandemic. Under the American Rescue Plan appropriations, NIST-sponsored grant competitions will fund projects to Manufacturing USA institutes to focus on domestic research, development, and testbeds to prevent, prepare for, and respond to coronavirus.
Institute-managed applied research and development (R&D) technology projects help to de-risk investment, advance manufacturing technology and processes, and improve innovation ecosystems.
In FY 2021 the institutes continue addressing the need for more skilled workers trained in advanced manufacturing technology. The pandemic prompted the institutes to augment their on-line tools to increase the accessibility of innovative advanced manufacturing education and training, which reached more diverse groups and communities.
In FY 2021, the 16 institutes:
Worked with over 2,000+ Member Organizations and established 300 new memberships
Managed 700+ applied research and development technology projects (33% increase in FY21)
Engaged 85,000+ participants in workforce and training (25% increase in FY21)

30x increase in post-secondary teachers trained (29 to 960)
9x increase in certifications (757 to 7,161)

$354M investment from state, federal, and private funds beyond the $127M in base federal funds

2.7 to 1 investment match