COVID-19, Manufacturing, Recycling, Reuse, Workforce
REMADE, the Manufacturing USA institute dedicated to leading the U.S. transition from an unsustainable linear economy to a sustainable Circular Economy, has released its 2020 Impact Report detailing accomplishments from its fourth year of operation. The institute has collaborated with more than 90 partners—including manufacturers, universities, and national labs—across 39 projects focused on reducing embodied energy, decreasing emissions, removing barriers, and increasing the U.S.'s manufacturing competitiveness for decades to come.
REMADE transformed its workforce development program to meet rapidly changing needs during the global COVID-19 pandemic, adjusting to a virtual format and now offering more than 30 hours of online training. To date, its workforce development program has trained more than 2,100 individuals on a variety of topics, ranging from reuse and remanufacturing to recovery and recycling.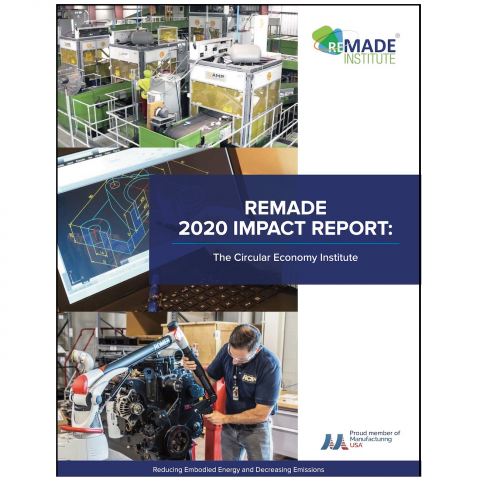 The 2020 Impact Report highlights projects aimed to
make films and flexibles fully recyclable,

decrease the amount of municipal solid wastepaper and cardboard being landfilled by exploring innovative approaches to remove their contaminants,

lessen dependence on finite raw materials by investigating cost-effective processes to recover precious metals from electronic waste, and

increase remanufacturing intensity in heavy duty off-road remanufacturing to create more jobs in this sector.
These projects align with REMADE's goal to reduce the cost of technologies essential to recover, reuse, recycle, and remanufacture materials such as metals, fibers, polymers, and electronic waste.