Bioengineering, Biofabrication, Biomanufacturing, Biopharmaceutical, COVID-19, Synthetic Biology, Workforce
Advances in biotechnology over the past decade have led to an explosion of innovative new products that touch many aspects of American life, from novel RNA vaccines and cell-based medicines, to engineered meats and plants, to fuels and chemicals made from renewable resources, and much more. Science and engineering continue to unveil new ways of leveraging biological resources and biological processes to create innovative products in America for the benefit of the American people. The potential for enormous growth in this sector over the coming decades is widely recognized, as companies shift to biologically based processes or develop novel bioproducts.2 The United States has been the source of key advances that launched biotechnology and the bioeconomy—but we need to take action now to ensure the benefits of these advances are reaped at home.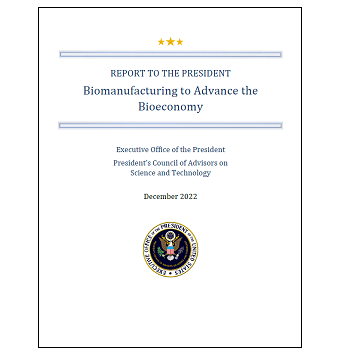 Biomanufacturing is the engine by which the innovative products of the bioeconomy are brought to commercial scale. It is integral to the solutions for many of our national and global challenges, including resource utilization, climate change, economic stability, and environmental justice. The newly released Executive Order (EO) 14081, Advancing Biotechnology and Biomanufacturing Innovation for a Sustainable, Safe, and Secure American Bioeconomy,3 and the CHIPS and Science Act4 could bolster the bioeconomy, support a diverse domestic workforce, and catalyze the country's scientific and technological pursuits. Combined with accelerating private sector activity across all areas of the bioeconomy, these historic efforts by the Federal Government will help ensure that the research performed in America is translated into products made in America. Over the last decade, government and private sector efforts have spawned hundreds of new businesses and product innovations. Without these strategic investments, the United States will not be able to make the necessary growth to fully capitalize on our current global leadership in the biological sciences and bioengineering.
As a part of a whole-of-government effort to advance biomanufacturing and in turn advance the bioeconomy, PCAST has identified three key challenges that must be addressed to ensure the United States maintains its competitive edge and maximizes the benefits of the bioeconomy: 1) U.S. biomanufacturing capacity and workforce are not keeping pace with the bioproducts in development nor with the emerging biomanufacturing approaches that can expeditiously move new ideas and discoveries to commercial scale products; 2) the regulatory review and approval process for many new cross-cutting bioproducts, particularly those emerging from new companies with innovative technologies, is complex and uncertain, which can delay or even stop the commercialization process; and 3) an integrated and overarching bioeconomy strategy is needed to help guide Federal agencies in managing the development and transfer of these powerful biotechnologies toward social and economic advancements. This strategy should establish achievable objectives, provide options for adapting the strategy to a continually evolving bioeconomy landscape, and identify data and metrics that will be used to monitor progress and reorient programs and funding.
PCAST's recommendations to address these three critical issues are synergistic with, but distinct from actions and policies set forth in EO 14081, and leverage the provisions of the CHIPS and Science Act as well as coordination among our science and regulatory agencies to implement a long-term vision for advancing biomanufacturing in support of our growing bioeconomy.