Bioengineering, Biomanufacturing, Biopharmaceutical, Synthetic Biology, Workforce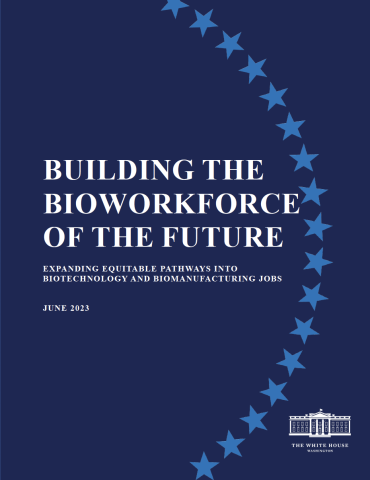 In September 2022, President Biden signed Executive Order (E.O.) 14081 on Advancing Biotechnology and Biomanufacturing Innovation for a Sustainable, Safe, and Secure American Bioeconomy. The E.O. directs the United States Government to expand training and education opportunities for all Americans in biotechnology and biomanufacturing. Specifically, the E.O. directs that to support this objective, the Secretary of Commerce, the Secretary of Labor, the Secretary of Education, the Assistant to the President for Domestic Policy (APDP), the Director of the Office of Science and Technology Policy (OSTP), and the Director of the National Science Foundation (NSF) produce and make publicly available a plan to coordinate and use relevant federal education and training programs, while also recommending new efforts to promote multidisciplinary education programs. As directed in the E.O., this plan promotes the implementation of formal and informal education and training (such as opportunities at technical schools and certificate programs), career and technical education, and expanded career pathways into existing degree programs for biotechnology and biomanufacturing. This plan also includes a focused discussion of Historically Black Colleges and Universities (HBCUs), Tribal Colleges and Universities (TCUs), and Minority Serving Institutions (MSIs) and the extent to which agencies can use existing statutory authorities to promote racial and gender equity and support underserved communities, consistent with the policy established in Executive Order 13985. Finally, the E.O. directs this plan to account for funds appropriated in prior fiscal years and proposed funds in the President's Budget. 
This plan, "Building the Bioworkforce of the Future," builds upon recent reports and assessments of the workforce needs for biotechnology and biomanufacturing and input from stakeholders across government, business, educational institutions, and community-based organizations. Public input was collected through listening sessions and an OSTP-led Request for Information posted in December 2022. Input from this outreach informed the recommendations and action steps.