AFFOA
,
AIM Photonics
,
America Makes
,
ARM
,
BioFabUSA
,
BioMADE
,
CESMII
,
CyManII
,
IACMI
,
LIFT
,
MxD
,
NextFlex
,
NIIMBL
,
PowerAmerica
,
RAPID
,
REMADE
COVID-19, Education, Workforce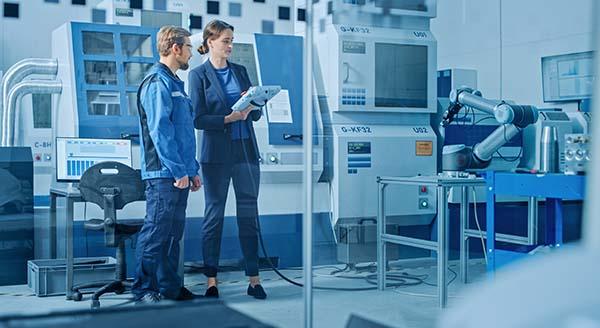 Workforce development is taking on increasing importance as manufacturers not only must fill more than 800,000 current openings but also define new careers involving robotics, automation and AI. Manufacturers are seeking people with the right skills for the advanced manufacturing jobs of today and tomorrow and finding ways to upskill their current staff.
Enhanced skills in the workforce are necessary to drive the automation technologies that will increase productivity and lead a resurgent U.S. manufacturing sector. Improvements in the workforce will help make more manufacturing businesses, especially small and mid-sized companies, economically viable.
The Manufacturing USA institutes are helping expand and upskill the manufacturing workforce by connecting industry with equitable education and workforce development systems, including those in underserved communities. The institutes and their industry partners are training and educating tens of thousands of workers, students, and educators. These efforts will build capacity in advanced manufacturing while supplying fulfilling careers in which workers earn family-supporting wages.
Each of the 16 institutes in the Manufacturing USA network has ongoing workforce development initiatives that range from internships and entry-level training to mid-career development and post-graduate programs. Funded in part by the Departments of Commerce, Defense and Energy, the institutes each focus on a different technology, but they all work toward securing America's future through advanced manufacturing innovation, education, and collaboration. The institutes are helping empower the next generation, strengthen our economy and improve our way of life.
Cybersecurity Sector Illustrates Current Needs for STEM Talent
The cybersecurity sector is a clear example of this dynamic. President Biden recently announced an ambitious plan to bolster U.S. cybersecurity. Much of this effort will be to upskill and reskill over 1 million workers by 2026 as cybersecurity credentials do not depend on traditional degree pathways.
Two of the institutes of the Manufacturing USA network are playing a major role in this initiative:
The Cybersecurity Manufacturing Innovation Institute (CyManII) is developing the

Texas Manufacturing x Transformation Hub

along with Port San Antonio and The University of Texas System. The $5 million facility will make available entry-level cyber educational programs and focus on accelerating training and strategic collaborations that safeguard our manufacturing, infrastructure and economy.

The Manufacturing times Digital institute (MxD) has completed a

Hiring Guide

that features 247 identified cybersecurity roles. It recommends how to train and upskill workers to handle these jobs, and it breaks out detailed descriptions for three specific roles crucial to the future of cybersecurity.
Workforce Initiatives at the Innovation Institutes
The institutes have scores of workforce development programs that include recruiting Science, Technology, Engineering and Mathematics (STEM) talent, internship programs, boot camps and certification programs. Here is an example from each institute on how they are addressing the upskilling and development of the current manufacturing workforce.
AFFOA: Developing Ways to Align Training with Adoption of Technology
AFFOA is a partner in the MassBridge project, which is developing a stackable set of training programs to create pathways from existing technician training programs to the skill sets required by innovations developed in the Manufacturing USA network. AFFOA also is involved with the MassBridge Benchmark Report, which is conducting workforce road mapping of relevant Massachusetts companies. New workforce training programs for advanced manufacturing skills will have the highest impact if they proceed in parallel with advanced technology implementation efforts by the state's manufacturing firms.
AIM: Developing the Photonics Industry's First Career Development Roadmap
AIM Photonics partnered with the Massachusetts Institute of Technology's Initiative for Knowledge and Innovation in Manufacturing and Office of Open Learning to author the Photonics Workforce Roadmap. The research, which is the first workforce roadmap for the fiber and photonics industry, identified a clear need for photonics technicians to receive more extensive training over the next three to five years on how to: fabricate and assemble optical systems, diagnose and resolve process or product problems, design and execute testing methods, and recommend design changes. Another study found the need to train recent advanced engineering graduates on how to design for manufacturing and move prototyping into a production environment.
AmericaMakes:  Creating Credential Programs That Evolve with Its Emerging Field
America Makes, the additive manufacturing institute, has previously identified 72 credentials in advanced manufacturing that were industry-recognized, and it assessed them at three skill levels – technicians, technologists, and engineers – to find gaps in additive manufacturing elements at each level. Its advisory group built a framework and new credential body of knowledge for additive credentials that were both stand-alone and incorporated into other credentialing systems and include knowledge requirements and performance assessments.
ARM Institute: A Resource for Vetted and Certified Robotics Training
ARM (Advanced Robotics for Manufacturing) has launched www.roboticscareer.org – the nation's first resource to connect manufacturers, workers, and job seekers with education programs to develop skills for careers in automation and robotics. The institute collaborated with 300 member organizations across industry, government, and academia to define the skill sets, competencies, and the pathways needed for these careers. Each program on the site aligns with an industry-vetted pathway, has been certified, and earned the ARM Endorsement Badge. At least a dozen programs have received the badge.
BioFabUSA: Seeking Skills that Reflect Integrated Nature of Biofabrication
The institute's Education Workforce and Development roadmap identified highly needed skills for the biofabrication field, which is the production of tissues, organs and related technology. The workforce needs skills that reflect the integrated nature of the biofabrication industry, where technology bridges cell biology, engineering, automation, regulatory, and data analytics.
BioMADE: Developing an Academy for Industry Professionals
Among the projects at BioMADE, focused on bioindustrial manufacturing, is the creation of ALAKA'I (Aloha Life-Science Academy: Knowledge Advancing Industry). This project will establish an academy to develop industry-relevant multi-disciplinary training for professionals in the bioeconomy, including operators, technicians, scientists, managers, policy makers, regulators, investors, and advocates.
CESMII: Smart Manufacturing Training That Leverages Existing Systems
The smart manufacturing institute has developed a Factory 4.0 Educational Toolkit, which will enable small and medium-sized manufacturers to evaluate and apply learning from their operations into workforce development modules. These modules are on key aspects of Industry 4.0, including sensing, control, data acquisition, process simulation models, machine learning and prediction, and optimization. CESMII also has developed a Smart Manufacturing Workforce Development Model, a customizable system that allows organizations to develop training that leverages existing education and workforce systems.
CyManII: Hub Will Help Develop Cybersecurity Workforce
CyManII's Texas Manufacturing x Transformation Hub (TxMx Hub) will provide cybersecurity education, training and certifications for the nation's manufacturers. The partnership, funded by the state of Texas, will prioritize accelerating training and strategic collaborations that safeguard installations and transportation assets operated by U.S. public- and private-sector partners. The Hub's efforts will focus on reaching manufacturers in critical sectors such as aerospace, computer hardware, advanced manufacturing, robotics, automobiles and electric vehicles. Initially, it will work with manufacturers to address urgent Department of Defense Cybersecurity Maturation Model Certifications (CMMC) as well as other requirements. It will then accelerate innovation by introducing small and medium-sized manufacturers to CyManII's technical research and development projects. The Hub will deliver workforce training to college students, workers, executives, government officials, industry experts and Texas companies.
IACMI: Career Development for Machining, One of Manufacturing's Legacy Roles
IACMI, the Composites Institute, has a program for established machinists that it calls America's Cutting Edge. The program uses virtual training and machining simulation to teach physics-based machining parameter selection. This provides career development opportunities in advanced manufacturing for one of the industry's legacy roles, CNC machining.
LIFT: Certification Programs and Preparing Military Personnel for Careers
LIFT is home to IGNITE, the LIFT Learning Lab, and Operation Next (see the accompanying story). The IGNITE Mastering Manufacturing program is a three-year curriculum that introduces students to advanced manufacturing materials, processes and systems through on-line, multimedia and project-based learning. The LIFT Learning Lab is an immersive learning facility that prepares students for the most in-demand manufacturing careers – including on-site certification courses in welding, CNC machining and robotics.
MxD: Providing Career Pathways to Digital Technology and Cybersecurity Roles
In addition to its cybersecurity initiatives, MxD has been one of the key members in looking to the future of the advanced manufacturing workforce. MxD led a project that it titled Jobs Taxonomy which identified 165 roles in manufacturing that will be created or transformed by the introduction of digital technology. The workforce playbook includes job role descriptions and educational requirements for each role. Universities have begun using the taxonomy to inform curriculum development, and the private sector companies are using it as a key reference for various aspects of staffing.
NextFlex: Professional Development in Flexible Hybrid Electronics
Operation Next Provides a Path to Advanced Manufacturing Careers

The skills gap in advanced manufacturing is growing, which makes training the workforce more important than ever. That is why

Operation Next

, a competency-based program conducted by

LIFT

, was developed in 2018. It provides a blended learning curriculum, giving active duty soldiers the opportunity to earn an advanced manufacturing credential during their last six months of service and immediately begin their career after their service. The program for military members has a more than 90% success rate. In the midst of the pandemic, which exacerbated the need for talent, with funding from the CARES Act, the program was extended as a pilot to help civilians earn credentials for themselves. Kenneth Murphy is one of those civilians who also happens to be a veteran and earned an advanced manufacturing credential through Operation Next. Murphy graduated from the Operation Next program in Detroit, one of seven locations around the country.

Kenneth Murphy participating in LIFT's Operation Next training program
The institute has designed its FlexPro Workshop for professional development. The program, which features manufacturing technology familiarization exercises and theory-based lectures, is available to companies, educational institutions and research labs. Participants learn how flexible hybrid electronics (FHE) can be integrated into product designs to reduce the size, weight, power requirements, cost, and time to market through improved manufacturing efficiencies.
NIIMBL: Training Programs for the Pharmaceutical Sector
The institute has developed its workforce development and training programs on four areas to ensure the U.S. maintains a supply of skilled workers to meet the needs of the domestic biopharmaceutical sector:
Collaborating with diverse industry stakeholders to identify needs and gaps

Building on existing capabilities, facilities, and programs

Developing online and on-site training opportunities

Targeting people transitioning from other industries and service members looking for a new career
PowerAmerica: Short Course Series Proves Popular with Working Professionals
The PowerAmerica Institute continues to build on its successful Wide Bandgap Short Course series. The intensive two-day courses for working professionals are taught by research professors from North Carolina State University and other universities and highly regarded industrial professionals. The institute also hosts monthly technical webinars.
RAPID: 3 Tracks to a Certification in Process Intensification
The RAPID Institute has launched a certification program to equip people with skills in process intensification and modular chemical process intensification, which play a huge role in energy productivity and efficiency in the industrial sector. RAPID has a robust education and workforce development program, which includes a library of eLearning courses and a bootcamp affiliated with the AlChE Academy.
REMADE:  Training for Emerging Circular Economy Technologies
The REMADE Institute has branded its workforce development training as REMADE Academy to eliminate gaps that prevent greater material recycling, recovery, remanufacturing and reuse. It also has refined its Tiered Certificate Pathways program, which has competency levels for awareness, practitioner, and expert. The tiered approach to competency levels enables the Institute to maximize engagement with the incumbent workforce independent of their level of expertise, and it communicates training expectations to potential participants prior to enrolling.
Upskilling the Current Manufacturing Workforce is a Win for All
The Manufacturing USA network is engaging in projects that help the current manufacturing workforce gain new skills to meet the growing demand for careers in robotics, automation and AI. These projects also will help attract other people into career paths in advanced manufacturing and provide them with rewarding vocations.
In 2020, institutes in the Manufacturing USA network collectively worked with over 2,000 member organizations to collaborate on more than 500 major research and development projects and engaged over 70,000 people in building workforce knowledge and skills in advanced manufacturing. State, industry and federal funds contributed $400 million to these activities.
To learn more about how these institutes are developing, upscaling and transitioning the current manufacturing workforce, visit the institutes' page.