Education, Innovation, Manufacturing, STEM
FlexFactor™ by NextFlex wrapped up a very active and successful Fall 2017 semester with 13 program iterations spread across five Silicon Valley school districts and six high schools, including Westmont, Leigh, Branham, Lincoln, Wilcox, and Independence. Four-hundred twenty-five students actively participated, coming up with 80 FHE-enabled product ideas ranging from "Snug Sleeve," an advanced athletic product designed to treat shin splints, to the "Interactive Driving Device (IDD)," a blood alcohol-content detecting steering wheel cover. The innovation, creativity, and research that guided the development and presentation of these concepts was impressive to witness, and the enthusiasm of the students gave us faith in the future and proved that young people enjoy being entrepreneurs.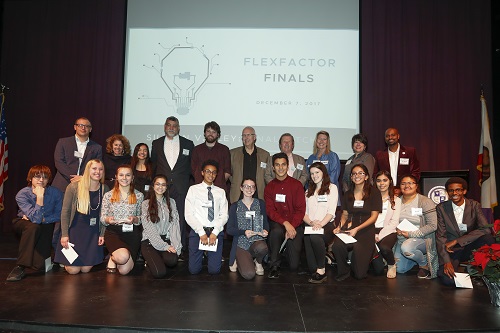 2017 FlexFactor Finals: Silicon Valley winning teams alongside judging panel.
During the four-week program, each team visited Jabil's Blue Sky Center to learn about new technology, manufacturing processes, and career pathways leading to the advanced manufacturing sector. As a benefit of participating in FlexFactor, students enrolled at San Jose City College, took in an entrepreneurship lecture, and toured the campus to receive college credit for successful completion of the program.
The winning team from each class advanced to the 2017 FlexFactor™ Finals: Silicon Valley in December at San Jose City College. There, the students pitched their FHE-enabled product ideas to a panel of representatives from government, industry, and education, wowing a crowd of over 200 attendees.
Read more ...