Additive Manufacturing, Biomanufacturing, COVID-19, Digital Manufacturing, Fabrics, Flexible Hybrid Electronics, Lightweight Materials, Photonics, Process Intensification, Workforce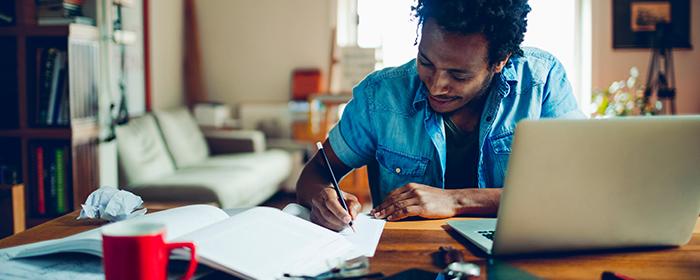 The COVID-19 pandemic has changed the way manufacturers recruit, train and develop their workforce. Long term, this shift will work in manufacturers' favor as online learning is also key to developing the skills necessary to leverage the emerging technologies that will give rise to the advanced manufacturing economy of the future.
While each of the 16 institutes in the Manufacturing USA network focuses on a different technology, they all work toward the same high-level goal of securing America's future through advanced manufacturing innovation, education, and collaboration. Sponsored by the Departments of Commerce, Defense and Energy, they are aligned in providing educational opportunities to new and existing manufacturing workers so that they can develop the skills that will be needed in the new advanced manufacturing economy.
The National Association of Manufacturers estimates that by 2028 manufacturers will need to fill 4.6 million jobs. Closing this gap means more than finding machine operators and transferring the "tribal knowledge" that often isn't documented anywhere in a shop — i.e., filling present-day manufacturing jobs. It also means recruiting more people into manufacturing by raising awareness of the career possibilities in technology and programming  — i.e., the manufacturing jobs of the future.
To this end, many of the institutes have developed specialty online learning initiatives to develop career pathways to higher-skilled positions needed for advanced manufacturing. They offer:
Competency-based vs. time-based learning, which allows for more individualized curricula and targeting specific skills, and it usually results in higher student engagement.

Flexibility that expands the pool of participants. This is an important consideration for underrepresented populations for whom traditional classroom training programs may pose attendance challenges due to lack of transportation and inflexible time constraints. For example, a young parent might previously have had to deal with childcare issues not only for a full-time job but also to accommodate classes at a local college. Now she or he could do the curriculum at home when it is convenient thanks to on-demand e-learning options.
Some of the online offerings are free and open to anyone; others are available to institute members. The programs range from targeting high school students to undergraduates, as well as prospective entry-level employees and tenured workers seeking opportunities for career advancement. Here is a look at just a few of the exemplary online learning initiatives from the institutes.
AFFOA's MITxFIT Program
AFFOA has partnered with the Massachusetts Institute of Technology and the Fashion Institute of Technology to create MITANDFIT (MITxFIT), a two-week workshop in textile technology. The program is geared toward undergraduate students, and connects the worlds of design and engineering for products made of advanced functional fibers, yarns, and textiles.
Recent breakthroughs in fiber material, fabric processing and semiconductors allow for the design and production of materials that see, hear, sense, communicate, store and convert energy, regulate temperature, monitor health, and change color. These new fiber materials are enabling a manufacturing-based revolution transforming traditional fibers, yarns and fabrics into sophisticated, integrated and networked devices and systems.
RAPID's eLearning Courses
The RAPID institute is focused on breakthrough technologies to boost energy productivity and energy efficiency in oil and gas, pulp and paper, renewable bioproducts and domestic chemical manufacturers.
In addition to its virtual internship program, RAPID has made numerous professional development online courses available to its members through AIChE Academy, which focuses on modular chemical process intensification (MCPI). MCPI is the underpinning science and technology that will be required for innovative manufacturing processes and applications that will lead to smaller and more efficient chemical processing plants, among other benefits.
LIFT's IGNITE Program
LIFT is rolling out its IGNITE: Mastering Manufacturing curriculum across the country after completing test pilots at high schools in Illinois, Michigan and Ohio. IGNITE is a three-year foundational competency-based educational program to train multi-skilled technicians. High school students learn through project-based experiences and graduate with skills and knowledge needed for entry level manufacturing positions. They also have been exposed to career paths for engineering technicians, technologists, and engineers.
AIM Photonics' Academy
AIM Photonics has built an online learning portal that allows instructors to download teaching materials and offers free online college-level EdX courses. EdX is a non-profit created by founding partners Harvard and MIT. Integrated photonics involves using light for applications traditionally addressed through electronics. It dramatically improves on the performance and reliability of electronic integrated circuits while significantly reducing size, weight, and power consumption.
NextFlex's Flex Factor
When the COVID-19 pandemic shut down most in-person activities, NextFlex transitioned its FlexFactor educational program from classroom-based to online in concert with the participating manufacturers, public school systems and community colleges. The month-long program now operates in four ecosystems through these sponsoring community colleges:
Evergreen Valley Community College, Calif.

Lorain County Community College, Ohio

Drake State and Colhoun Community Colleges, Ala.

Midlands Technical College, SC.
About 700 students had completed the online program in its first six months.
MxD's Cybersecurity for Manufacturing
MxD, in partnership with University of Maryland–Baltimore County, has developed a series of certificate-level cybersecurity courses that integrate instruction about manufacturing-focused job roles, career pathways, and success profiles. Cybersecurity is a critical skill set needed for the long-term success of advanced manufacturers that are increasingly reliant on connected factories, machine learning and artificial intelligence.
America Makes' Additive Manufacturing Classes
America Makes has partnered with Tooling U-SME to offer more than a dozen online classes specific to additive manufacturing and 3D printing technology. Tooling U is an online training repository of more than 500 interactive courses that range from a high school CTE program to college classes and certificate programs. Classes use computer-aided-design software and 3D object scanners to 3D print what previously was made by removing material from a larger workpiece through milling, machining, carving, shaping, and other means.
The NIIMBL eXperience
The NIIMBL eXperience is a program linking underrepresented students to the biopharmaceutical manufacturing industry to improve recruiting and retention of a talented, diverse workforce. College students from Historically Black Colleges and Universities connect directly with biopharmaceutical companies and federal agencies to learn about the industry and the important role it plays in patient health and well-being.
When the pandemic hit, NIIMBL took the program online in collaboration with the National Society of Black Engineers. A dozen organizations engaged with 13 rising sophomores and juniors during the virtual eXperience, understanding the students' interests and sharing opportunities within their companies. Participating organizations included AstraZeneca, Amgen, Genentech, Merck, RoosterBio, and NIST.
Workforce Development with the Aim of Advancing U.S. Manufacturing
The development of online learning across the spectrum of high school students to early career professionals to upskilling current workers is an example of the large-scale support for innovation that the Manufacturing USA network is providing to the U.S manufacturing sector.
Through public-private partnerships, last year the institutes leveraged $133M in federal funds to attract $355M in state and private investment, worked with 1,900 member organizations to collaborate on over 560 major research and development projects, and partnered with educational organizations to teach thousands of people advanced manufacturing technologies via workshops, courses, internships, and apprenticeships.
Advanced manufacturing increasingly plays a critical role in the U.S. innovation ecosystem, supporting U.S. technological competitiveness and driving product and process improvements that advance the U.S. economy.
To join the Manufacturing USA innovation revolution, visit the institutes page and learn more about the advanced manufacturing technologies they accelerate.