Additive Manufacturing, Manufacturing, Manufacturing Day, Workforce
The pandemic has impacted how we reach and teach people, including for national Manufacturing Day. Here is just one example of the ways in which the Manufacturing USA® network and partners across the nation have responded to train and educate people on advanced manufacturing technologies such as additive manufacturing.
Building the Additive Manufacturing Workforce
America Makes is an institute in the Manufacturing USA network, and is specifically dedicated to maintaining the nation's acceleration and innovation in additive manufacturing and 3D printing technology research. These institutes function as public-private partnerships to increase our nation's global manufacturing competitiveness.
"At America Makes we are dedicated to preparing today's workforce for the adoption of additive manufacturing and building a comprehensive talent pipeline that is K-to-Grey including all aspects from academia to industry," said Josh Cramer, America Makes Education and Workforce Director.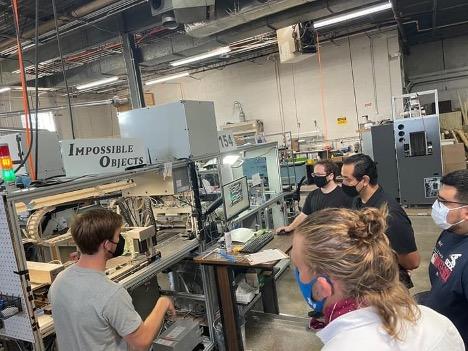 Developing Virtual Learning Opportunities
America Makes partnered with several member organizations to execute a program with funding from the NIST Coronavirus Aid, Relief, and Economic Security (CARES) Act that established a wide range of educational and training assets. The team provided eLearning training across two dozen in-demand focus areas in 48 states, impacting nearly 1,000 individuals within 100 companies, and reskilling and upskilling 200 independent participants for manufacturing. Work included the creation of new credentials in additive manufacturing and the development of 11 middle school micro-learning modules to introduce students to 3D printing and future career opportunities. America Makes developed the middle school pilot program in conjunction with Bull City Learning, MxD (another institute in the Manufacturing USA network), and member Fab Lab Hub, LLC, a part of the International Fab Lab Network.
According to Cramer, "this program allows students to engage with advanced manufacturing principles, builds awareness of pathways for high school and post-secondary students to pursue advanced manufacturing, and informs them of career and credential opportunities."
Reaching More Underserved Communities
One of the most successful deployments of the program included a tailored engagement with America Makes member companies in Chicago, where work led locally by 3Degrees develops manufacturing expertise in underserved communities with limited experience in technical fields or higher education. 3Degress and America Makes partnered with the West Side Forward Organization in Chicago to locate and reskill or upskill individuals from various backgrounds and age groups with leveraged institute-created educational assets through a boot camp style curriculum two days a week.
After four weeks of training and visits to America Makes member companies (such as EOS, Impossible Objects, Renishaw and others), the companies pledge to hire participants for full-time or part-time roles upon completion. Participants have the potential to receive America Makes-vetted industry-recognized credentials. The first pilot cohort successfully completed September 1, 2021 and joined the workforce of the future in manufacturing.
To see about bringing the virtual additive manufacturing learning programs into your middle school, please contact Josh Cramer.