Workforce Development Initiatives Will Redefine Manufacturing Jobs
Advanced manufacturing increases productivity, enhances economic strength, drives innovation, and provides rewarding career opportunities. But the National Association of Manufacturers estimates that by 2028 manufacturers will need to fill 4.6 million jobs, which indicates a mismatch between current worker skills (and perception issues about today's manufacturing) and those required by advanced manufacturing.
The institutes within the Manufacturing USA network are helping to define the skills and training needed to satisfy manufacturers' future requirements. These efforts include:
Defining new careers for automation, robotics, AI and data analytics
Retraining and upskilling the current workforce
Attracting STEM talent for the future
Each of the 16 institutes in the Manufacturing USA network has ongoing workforce development initiatives. They are engaging with educational institutions and industry to increase interest in manufacturing careers and equip manufacturing workers with the skills they need to support the advanced manufacturing of the future. Many of the institutes have developed specialty online learning initiatives to develop career pathways that offer:
Competency-based vs. time-based learning, which allows for more individualized curricula and targeting specific skills, and usually results in higher engagement.
Flexibility that expands the pool of participants, an important consideration for underrepresented populations for whom traditional classroom programs may pose attendance challenges due to lack of transportation and time constraints.
Tens of thousands of workers, students, and educators in the past year have participated in institute workforce programs, including mid-career programs, apprenticeships, internships and summer camps. Workforce development plays a key role in ensuring that advanced manufacturing supports U.S. technological competitiveness and drives product and process improvements that advance the U.S. economy.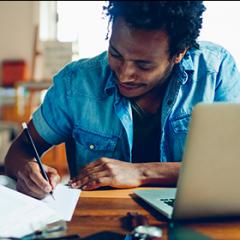 Additive Manufacturing, Biomanufacturing, COVID-19, Digital Manufacturing, Fabrics, Flexible Hybrid Electronics, Lightweight Materials, Photonics, Process Intensification, Workforce
The COVID-19 pandemic has changed the way manufacturers recruit, train and develop their workforce. Long term, this shift will work in manufacturers' favor as online learning is also key to developing the skills necessary to leverage the emerging technologies that will give rise to the advanced manufacturing economy of the future.
Manufacturing Day
Each year the Manufacturing USA network enthusiastically participates in Manufacturing Day (MFGDay) to show students, parents, educators and the public what modern manufacturing looks like and spark interest in pursuing advanced manufacturing careers.