AIM Photonics, the Department of Defense (DoD) sponsored Integrated Photonics Manufacturing Institute, heads into its fifth year, with a number of notable accomplishments and technological achievements. Some of these major milestones include Radio Frequency (RF) over fiber for warfighter improvements, high-speed optical communications advancements (>1Tbps), low cost sensors for military and commercial applications (real time COVID-19 testing), and the only open-access 300mm state-of-the-art Photonic/Microelectronic test, assembly, and packaging research facility in the world. 
Often times the technological advancements developed in these great institutes can overshadow one of the most important aspects of these manufacturing organizations; training our next generation workforce of skilled technicians, engineers, scientists and leaders in these new technologies. A little over two years ago, a bright young Ph.D. candidate attending the University at Albany and SUNY Poly's College of Nanoscale Science and Engineering decided to take a summer course recommended by her professor.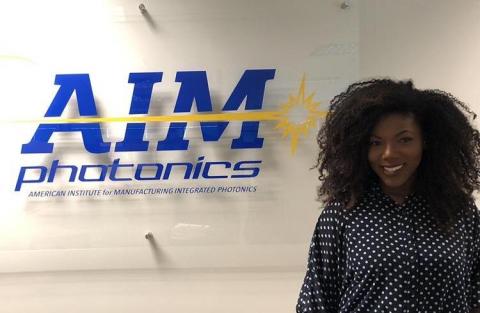 This was AIM Photonics Summer Academy 2019; a week long course covering a number of new technology aspects of integrated photonics including: design, simulation, device characterization, and process development.  Going into this week-long training, she knew of the added educational benefits, but little did she realize how this would change her future trajectory.  A graduate of Stony Brook University, with a bachelor's and master's in Mechanical Engineering in just 5 years, focusing on Energy Technology, Ms. Erica Graham knew she had opened a new world that would not only change her view of technology, but the future of the 21st century. It was this simple one week course at AIM Photonics Academy's HQ in the MIT campus where this happened. This new world was one of nanometer sized light particles traveling through waveguides made of silicon and silicon nitride. These waveguides enable devices to be powered by photons, instead of the traditional electrons. This was a new world to not only her, but many at the Summer Academy, as well as so many in our advanced technological workforce today.