When students, faculty and staff returned to the University of Tennessee (UT) campus in Knoxville for the beginning of the fall semester in August as many as 50,000 uniquely designed protective face shields were ready for distribution to help provide an extra layer of defense against the spread of the COVID-19 virus.
"Multiple university and community partners worked together in a short amount of time to bring 50,000 face shields from conception to distribution," said UT Chancellor Donde Plowman. "The shields have been made available throughout campus since students, faculty and staff returned to campus as one more level of protection in the prevention of the spread of COVID-19."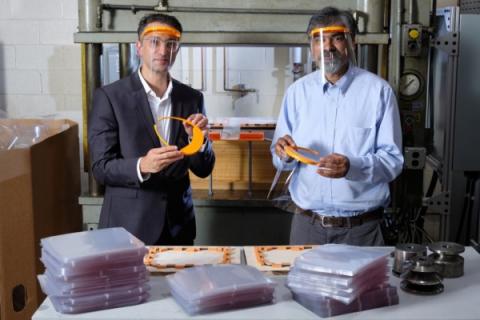 The face shield, called UT Shield, is a unique design by Maged Guerguis, assistant professor of Architecture and McCarty Holsaple McCarty Endowed Professor at UT's College of Architecture and Design. Guerguis is also the director of Soft Boundaries a multidisciplinary research laboratory investigating the intersections of architecture, engineering and science. 
"I designed the face shield to improve safety and provide comfort for the health care professionals working long hours fighting at the front lines of the pandemic, and I'm honored that it also is being used across campus to help our Volunteer community stay healthy," Guerguis said. The clear visor is spaced with maximum clearance from the face to allow for glasses or medical equipment to be worn comfortably. The shield weighs only two ounces, assembles in five seconds, doesn't require an elastic band and includes ergonomic end tips. Hundreds of UT Shields were donated to area medical professionals over the summer.