This is the revised strategic plan for Manufacturing USA. It describes the vision, mission, and goals and objectives. The plan also outlines the methods by which these goals will be achieved, including the program's investment strategy, the mechanisms by which investments made by federal agencies will be coordinated, and the metrics by which the program will be assessed.
Vision 
The vision for Manufacturing USA is U.S. global leadership in advanced manufacturing.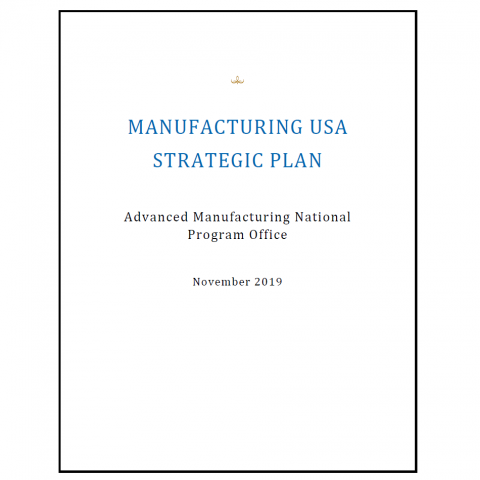 Mission 
To support this vision, the mission of Manufacturing USA is connecting people, ideas, and technology to solve industry-relevant advanced manufacturing challenges, thereby enhancing industrial competitiveness and economic growth and strengthening our national security.
Goals and Objectives 
To realize this vision, the agencies and institutes participating in Manufacturing USA collectively work toward achieving these four goals:
Goal 1: Increase the competitiveness of U.S. manufacturing. 
Goal 2: Facilitate the transition of innovative technologies into scalable, cost-effective, and high-performing domestic manufacturing capabilities. 
Goal 3: Accelerate the development of an advanced manufacturing workforce. 
Goal 4: Support business models that help institutes to become stable and sustainable.