Biomanufacturing, Fabrics, Facilities, Innovation, Manufacturing, Photonics, Public Private Partnerships, Robotics, Semi-Conductor
Three-quarters of U.S. manufacturers have fewer than 20 employees and do not have extensive research and development capabilities. Given the high costs of product development and their scope of operational challenges, from workforce and regulatory issues to unpredictable disruptions, it is difficult for small manufacturers to maintain competitiveness in an ever-changing environment. 
Competitiveness was among the primary drivers in the creation of Manufacturing USA to secure U.S. global leadership in advanced manufacturing by connecting people, ideas, and technology. The Manufacturing USA network, which has roots in the creation of America Makes in 2012, has grown to include 16 manufacturing innovation institutes that work to accelerate and de-risk technology development and scale-up through an ecosystem of government research institutions, universities and private sector industry members. Collectively, the institutes in the past decade have advanced 270 technologies toward commercialization.
One of the most tangible assets the institutes provide is the capital equipment for prototyping, developing, and producing new products in these emerging technology sectors. The investment in industry-leading equipment is proving to be a magnet for collaborative partnerships. The ecosystem provides expertise and networking for companies to innovate at the place where they manufacture the part or product. A growing number of companies are using these facilities for prototyping and production work on their path to commercialization.  
Access to Equipment Lowers Barriers to Entry in Emerging Technologies
One example of this success is how AIM Photonics provides extraordinary facilities for making computer chips at the semiconductor fabrication foundry at the Albany Nanotech Complex in Albany, NY. Researchers and private companies collaborate at the most advanced publicly owned 300 mm wafer research and development facility in the world to develop commercial uses in "integrated photonics," which augments conventional computer chips that use electrical signals with ultra-high-speed signals of light. Advances in integrated photonics will help raise the the U.S. share of global semiconductor manufacturing, which has fallen from 37 percent in 1990 to 12 percent today. Semiconductors — the tiny chips that enable modern technologies — are the fifth-largest U.S. export and remain critical to America's economy and national security. 
Kevin McComber co-founded Spark Photonics with a goal of helping to build the integrated photonics ecosystem, and Spark Photonics has leveraged the foundry and the ecosystem expertise at AIM Photonics to fabricate chips to be used in commercial sales of educational products. The company also provides a range of services to design and implement integrated photonics. 
"This is what disruptive manufacturing looks like," McComber said. "We have a great opportunity to lead the world in manufacturing this technology."
Integrated photonics is an emerging technology. Quantum photonics is in early-stage research, as are phase-sensitive integrated photonic sensors. They have the potential to have significant impacts on areas such as high-performance computing, chemical and biological sensing, robotic vision, and other areas currently dominated by electronics. 
There is a dearth of talent in photonics, and semiconductors in general, which means stakeholders will need to be aggressive about creating excitement in the educational and workforce sectors. McComber describes how integrated photonics works in this demo. 
How AIM Photonics is Leveraging its Access to the Chip Foundry
Phase Sensitive Innovations, which specializes in photonic devices, components, and systems, has used the library of electronic photonic components in AIM Photonics' process design kits (PDK) to design and build devices that reduce traditional radio-frequency phased arrays from "feet and inches to millimeters," according to co-founder Dennis Prather. He says the advancements reduce size and weight "by orders of magnitude" and make these powerful applications more financially viable.
Another co-founder utilizing the foundry services, Wil Oxford of Anametric, which is building quantum photonic chips for cybersecurity, says a benefit for them is that the institute makes available the advanced integrated photonics manufacturing processes it has developed through years of experience with previous projects. The relationship with AIM is based on mutually beneficial research and development, not just a more traditional foundry transaction.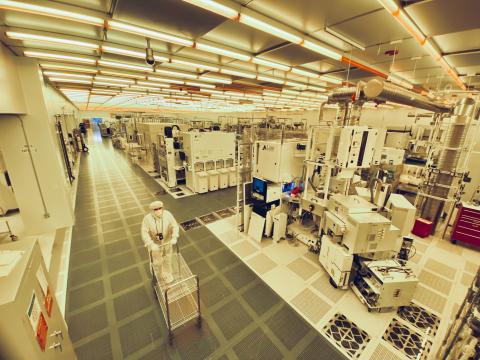 A third AIM Photonics member, Diedrik Vermeulen of SiPhox, says the institute has not only worked with them to develop new sensor technology for disposable biometric tests, but has helped them drive down costs. "They are helping us to eventually transition to a high-volume fab," he said.
All three companies said while there were other foundries capable of doing the work, they may only offer a limited set of testing parameters, and their pricing is based on large-scale production. AIM Photonics helped them bridge the technology gap.
AIM Photonics also provides services through the TAP facility, the nation's first accessible 300 mm state-of-the-art facility in Rochester, NY, for integrated silicon photonics test, assembly, and packaging. They are helping create a manufacturing sector for photonic integrated circuits. According to Prather, AIM Photonics has perfected the ability to make advanced integrated photonics chips and PDKs, and when the ecosystem brings the same capability to packaging it will accelerate this domestic supply chain. 
Facilities Help Companies Accelerate Path to Commercialization
A number of institutes have high-tech facilities for prototyping and production work, which help companies bridge the innovation gap to show they can produce at scale in a manufacturing environment. The institutes with prototyping and production facilities include:
A Fresh Perspective on Advanced Manufacturing
Technology advancements the institutes and their members make today will lead to new companies or even new markets that provide more Americans with rewarding, living wage jobs. All of this contributes to stronger local, regional, and national communities.
The 17 institutes of the Manufacturing USA network are funded through the departments of Commerce, Defense, and Energy and from private sector industry members. In 2021, the institutes collectively worked with over 2,300 member organizations to collaborate on more than 700 major technology and workforce research and development projects and engaged over 90,000 in advanced manufacturing training. State, industry, and federal funds contributed $480 million to these activities. 
Learn more about how the Manufacturing USA network also nurtures startup companies across the "innovation valley of death."