Additive Manufacturing, Biomanufacturing, COVID-19, Digital Manufacturing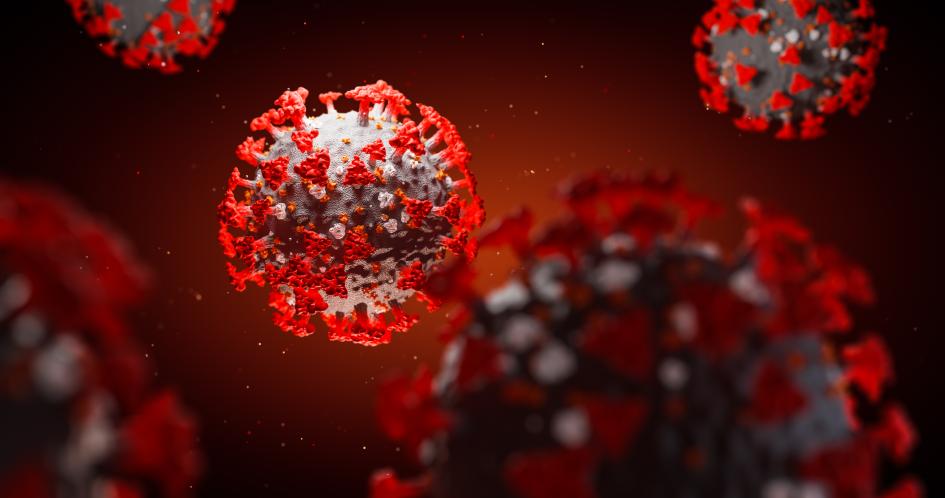 The COVID-19 pandemic created a ripple effect for U.S. manufacturers that revealed not only a lack of redundancy in the supply chain but also a lack of transparency. As the pandemic took hold, worldwide demand for personal protective equipment (PPE) dramatically increased and many material and product costs skyrocketed. It quickly became apparent that the PPE supply chain in the U.S. would need reinventing.
The predictable and important immediate response to a short supply of PPE such as N95 masks was to find ways to make more. But several manufacturing innovation institutes in the Manufacturing USA network have taken an expanded view of the issues and asked questions that could fundamentally change the PPE supply chain:
How can we empower U.S. manufacturers to make PPE?

How do we match emerging PPE producers with purchasers who need it most?

How do we test and validate the efficacy of new PPE coming on the market?
Manufacturing USA is a network of 16 institutes and their sponsoring federal agencies — the Departments of Commerce, Defense and Energy. Manufacturing USA was created in 2014 to secure U.S. global leadership in advanced manufacturing. Many of these institutes are engaged in reshaping the PPE supply chain and have received CARES Act funding to prepare the nation for future emergency responses.
This is a look at a handful of areas in which the institutes are leading the PPE supply chain effort.
Early Workarounds in PPE Production: DIY Face Shields
With so much production of PPE focused in Asia, when the pandemic started it created a ripple effect on U.S. manufacturers that revealed issues in the supply chain. U.S. manufacturers that were making higher-value-add products may not have had adequate backup sources and also might have lacked visibility into all layers of the supply chain, which means they were not able to mitigate disruptions.
PPE supply chain management was, and remains, largely a manual process. All of this combined to make workarounds difficult.
With the onset of the pandemic, the Manufacturing x Digital institute (MxD) quickly produced step-by-step instructions for manufacturers to make face shields for their employees and potentially for their communities. The responsiveness demonstrated the flexibility of digital manufacturing — a quicker path to Plan B and how it might be practical to build products in places that traditionally don't produce them.
MxD's face shield initiative provided incentives for its 300 members to jump in and contribute to the greater cause. It also reinforced the institute's and members' agility and resolve. In many ways, shifting operations to work on producing face shields was a "proof of concept" for the kinds of adjustments that manufacturers will later face.
Compliance Testing and Product Lifecycle Management
Manufacturers jumping into the PPE supply chain or expanding their presence need capital investment and are required to meet legal compliance standards, such as with the CDC or FDA. Another institute, Advanced Functional Fabrics of America (AFFOA), went to work with its partners to create a regional network of testing locations to meet this demand.
These locations provide compliance testing for N95 masks and evaluate the quality of foreign-sourced respirators. They also provide preliminary performance results to researchers seeking to develop new filter media for N95 respirators and surgical masks and evaluate the efficacy of various mask sterilization techniques.
AFFOA also has helped develop the first product lifecycle management system specifically for PPE. This helps designers and developers capture specifications to recreate products moving forward.
This pioneering work has led to CARES Act funding for "Creating a Blueprint for Manufacturing During Periods of Surge Demand." The initiative will provide product management and oversight to produce additional certified medical PPE, facilitate rapid prototyping of PPE by non-traditional performers, and provide testing/certification capabilities to evaluate new designs.
In addition to testing and product management, AFFOA has created a blueprint for government-owned N95 mask production and distribution; an important safety net for the future.
Mapping the Supply Chain Will Help Efficiency, Mitigate Risk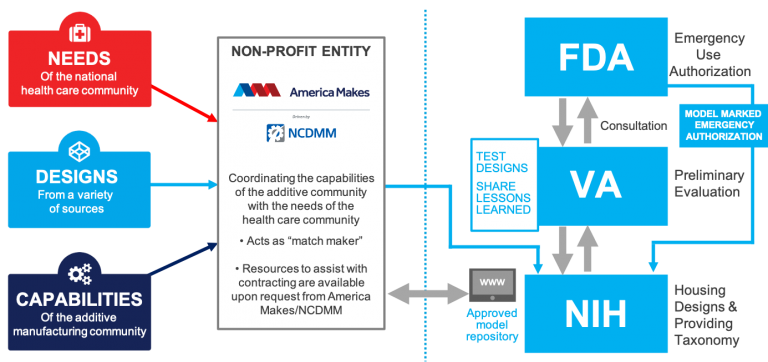 The America Makes institute has created an online repository of healthcare providers in need of medical PPE, manufacturers with 3D printing capabilities and designers willing to share 3D print designs with the aim of connecting manufacturers with medical caregivers on the frontline of the COVID-19 pandemic.
The institute has launched the "Advanced Manufacturing Crisis Production Response" program, which connects the additive manufacturing industry with the healthcare provider community to accelerate design and clinical review of 3D-printed PPE medical devices.
The initiative is one of several in the Manufacturing USA network being funded through the CARES Act with a focus on mapping the supply chain. Others include:
AFFOA and partners are mapping the PPE supply chain by capabilities — documenting, for example, which manufacturers make gowns and masks.

BioFabUSA

is working on a "Demand Forecasting Dashboard for Medical Supplies." This project will implement an inventory forecasting dashboard to reflect PPE product demand and response time for requisitions.
The

Supply Chain Risk Alert Project

, which was launched by MxD and partners prior to the pandemic, is developing machine learning/artificial intelligence capabilities to provide end-to-end visibility into a manufacturer's supply chain. It will help expand U.S. pharmaceutical manufacturing capacity while improving risk management.
Next-Generation Masks Are in the Pipeline
Another institute, the National Institute for Innovation in Manufacturing Biopharmaceuticals (NIIMBL), tapped into the Nonwovens Institute's newly developed "spunbond" technology to help develop next generation materials and manufacturing processes for face masks. While these masks have not yet been certified as N95 equivalent in filtration, they are already in use by students, faculty, and staff at North Carolina State University as they provide a significant level of protection and can be manufactured easily at industrial scale. Researchers also are determining if this new spun-bound mask can be sterilized for re-use.
NIIMBL also is testing ways to produce disposable inserts for reusable surgical masks, extending the life of those products.
Additionally, another institute, Advanced Robotics for Manufacturing (ARM), is leveraging its ecosystem to enable 10 fast-start projects to manufacture diagnostic, medical care, medical countermeasure, non-medical PPE, and other supplies.
PPE Supply Chain Work Shows Promise of Advanced Manufacturing
We have learned there is a clear ROI in manufacturing PPE in the U.S., economically and for society as a whole. Manufacturers already were dealing with risks of cost-driven outsourcing — such as poor quality, theft of IP, shipping delays and a lack of control — so the pandemic may prove to be a tipping point for reshoring. Emerging technologies are converging with this demand to create new possibilities for domestic manufacturing.
The work on reinventing the PPE supply chain demonstrates the value of the large-scale support for innovation that Manufacturing USA is providing to the U.S manufacturing sector. Through public-private partnerships, last year the institutes leveraged $133M in federal funds to attract $355M in state and private investment, worked with 1,900 member organizations to collaborate on over 560 major research and development projects, and partnered with educational organizations to teach thousands of people advanced manufacturing technologies via workshops, courses, internships, and apprenticeships.
This work is so important because advanced manufacturing increasingly plays a critical role in the U.S. innovation ecosystem, supporting U.S. technological competitiveness and driving product and process improvements that advance the U.S. economy.
To join the innovation revolution, visit the institutes page and learn more about the advanced manufacturing technologies they accelerate.