Tomorrow's Advanced Manufacturing Workforce
Advanced manufacturing increases productivity, enhances economic strength, drives innovation, and provides rewarding career opportunities. But projected shortfalls of as many as 2.4 million skilled workers through 2028 indicate a mismatch between current worker skills (and perception issues about today's manufacturing) and those required by advanced manufacturing.
Developing the advanced manufacturing workforce of the future means:
Increasing students' awareness of advanced manufacturing opportunities.
Training newcomers (including veterans) with the high-tech skills they'll need.
Providing enhanced training and certification to current manufacturing employees so they can move into new positions.
Here are some of the ways Manufacturing USA — through the manufacturing innovation institutes and the federal agencies that sponsor them, the Departments of Commerce, Defense, and Energy, as well as six additional partner agencies — is engaging in collaborative initiatives with educational institutions and industry to increase interest in manufacturing careers and equip manufacturing workers with the skills they need to support the advanced manufacturing of the future.
Tens of thousands of workers, students, and educators participated in institute workforce programs last year and have been empowered to take on the advanced manufacturing challenges of today and tomorrow.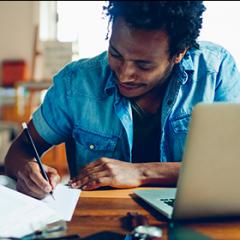 Additive Manufacturing, Biomanufacturing, COVID-19, Digital Manufacturing, Fabrics, Flexible Hybrid Electronics, Lightweight Materials, Photonics, Process Intensification, Workforce
The COVID-19 pandemic has changed the way manufacturers recruit, train and develop their workforce. Long term, this shift will work in manufacturers' favor as online learning is also key to developing the skills necessary to leverage the emerging technologies that will give rise to the advanced manufacturing economy of the future.
Manufacturing Day
Each year the Manufacturing USA network enthusiastically participates in Manufacturing Day (MFGDay) to show students, parents, educators and the public what modern manufacturing looks like and spark interest in pursuing advanced manufacturing careers.