Fabrics, Lightweight Materials, Materials, Power Electronics, Recycling, Sustainability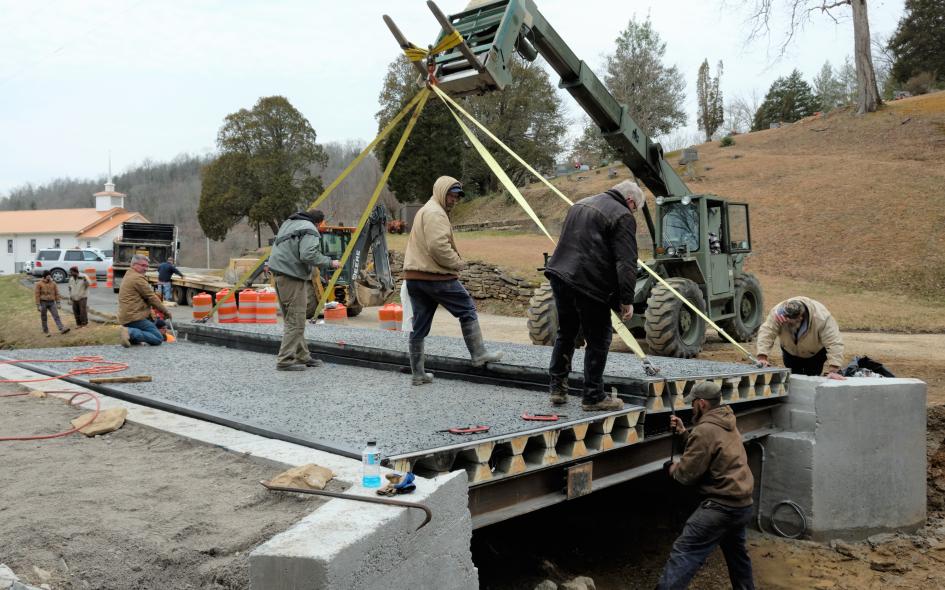 Applying research to develop manufacturing technologies has long been a route to bridge gaps to help solve America's challenges. That has been the case as manufacturers initially scaled mass production, through the birth of advanced manufacturing, to the emergence of connected devices gathering data to produce predictive analytics. Now, thanks to the collaborative approaches among manufacturing innovation institutes, university research departments and private sector partners, we are literally transforming the way we build bridges.
The American Society of Civil Engineers (ASCE) estimated, in 2018, that a $2 trillion investment was needed for the necessary repairs and upgrades to the country's infrastructure. Lack of data on the durability of our roads and bridges has been one of the major barriers to not only maintaining civil infrastructure but also is slowing the adoption of advanced materials.
Innovative solutions will significantly change the way we rebuild our transportation infrastructure, from bridges made with materials stronger than steel to highways paved with recycled rubber and plastic bonding to large scale electric vehicle charging stations powered by microgrids. The breakthroughs from these manufacturing innovation institutes and their members are propelling America's manufacturing industry to create sustainable new methods for building infrastructure, contributing to a cleaner environment, and enhancing U.S. competitiveness.
Manufacturing USA® is a national network created to secure U.S. global leadership in advanced manufacturing through large-scale public-private collaboration on technology, supply chain, and education and workforce development. The network comprises the U.S. Departments of Commerce, Energy and Defense, their sponsored manufacturing innovation institutes, and six additional federal agency partners, creating a whole-of-government, national effort to drive innovation in manufacturing.
Here is a sample of the collaborative projects that are reshaping the way we rebuild our infrastructure.
Using Fabric to Monitor Health of Rail Bridges and Other Structures
AFFOA (Advanced Functional Fabrics of America) was the lead institute on a project that installed fiber-optic sensing textiles for bridge health monitoring. The group included the University of Massachusetts, Lowell, global manufacturer Saint-Gobain and the American Railway Engineering Association.
The technology focused on integrating fiber optic strain sensors directly into fabrics, which were applied to new or existing structures to monitor strain or detect cracks in their early stages, thereby minimizing maintenance costs, environmental impacts and disruptions to people's lives and businesses. Bridge girders can be monitored to identify when maintenance needs may arise before a visual inspection may detect the need.
The University of Massachusetts Lowell Fabric Discovery Center was able to expand this project to include two other institutes in the Manufacturing USA network, NextFlex (flexible hybrid electronics) and ARM (Advanced Robotics for Manufacturing). This integration has enabled the expansion of a project on optical sensors for civil infrastructure monitoring. In addition, Saint-Gobain and NextFlex worked together on a project with Boeing, on smart textile-based sensors for aircraft. Other efforts include monitoring buildings, roadways, tunnels, railway tracks, dams and pipelines.
Composite Material Bridge Spans Are Stronger and Lighter Than Steel
Researchers at the University of Maine and the University of Massachusetts Lowell worked with AIT Bridges to develop the first of its kind fiber-reinforced polymer Composite Tub Girder system. It utilizes composite material girders and precast concrete deck panels to reduce the time and logistics to build a bridge.
The lightweight highway bridge superstructure can be built in 72 hours – a considerable improvement given that bridge constructions or replacements can take several months with conventional materials. The precast concrete deck is designed to be easily removed and replaced. The bridge system can be used for highway bridges, pedestrian bridges, and military applications. The design is targeted for short- to medium-span bridge applications, up to 80-foot unsupported spans.
The technology is in place on the Grist Mill Bridge in Maine, built around 1950, which reopened to traffic on Dec. 23, 2020. The steel girder bridge was demolished and replaced with the composite tub girders that will last longer than steel, with little maintenance needed due to its corrosion resistance. The new technology is expected to have a 100-year life time, at least 30 years longer than the average steel bridge.
Transforming Design, Construction and Installation of Rural Bridges
According to the ASCE, about 8 percent of the more than 617,000 bridges in the U.S. are structurally deficient and need repair. Perhaps the most overlooked of those bridges are the small, narrow two-lane rural bridges that take vehicles over creeks and ditches. They are among the most dangerous elements in our vehicle infrastructure, and little data exists on their durability or condition.
IACMI, the composites institute, recently led an effort to transform how these small rural bridges are designed, constructed and installed. The Bridge Infrastructure Project team included IACMI, the University of Tennessee, Morgan County, and about a dozen private-sector companies. The team built and installed a bridge with a 100-year life expectancy made of fiber-reinforced polymer with high-density fiber optic sensors and a state-of-the-art wireless sensor module system to monitor its condition.
The 16-feet-long and 25-feet-wide bridge deck is 90 percent lighter than concrete. It was fabricated off-site in a controlled environment. Because the completed bridge sections were so lightweight, they could be transported to the bridge site and installed in one day using a forklift, reducing installation time and energy costs by requiring less construction equipment for on-site preparation.
While fiber-reinforced composites have been used in big bridge construction for years, many transportation departments are not familiar with the technology, nor has anyone developed a scalable and cost-effective process. The lightweight modular construction for rapid installation reduces cost, saves energy, minimizes traffic delays and impact on the local community.
Utilizing Ground Rubber for Use in Energy Efficient Pavements
REMADE, the remanufacturing institute, is working with its partners to develop a more efficient process for using ground tire rubber for pavement. Ground tire rubber is being used as an asphalt modifier. However, because of the difference in density with asphalt, it suffers from inadequate storage stability, rendering it an un-preferred material in asphalt paving. Iowa State University, Michelin and Lehigh Technologies have developed a technology that mixes the ground tire rubber with polydiene to provide the required storage stability while matching ground rubber tire density with asphalt. This produces an asphalt product that meets storage stability specifications that would be more acceptable to the paving industry.
The project has the potential to replace 140,000 metric tons of material with 50,000 tons of scrap polybutadiene and save the equivalent of about 700,000 barrels of oil per year. The energy savings opportunity from this technology is estimated at 4.2 PJ per year.
REMADE also is working with the University of Tennessee, the Oak Ridge National Laboratory, and Paragon Technical Services Inc. to enable the reuse of commingled waste plastic and waste tire rubber for use as asphalt binders in pavement.
Microgrid Technology Could Quicken Adoption of Remote EV Charging
PowerAmerica has developed leading edge microgrid technology, enabled by their expertise in wide bandgap semiconductors, which could have significant impact on the future of electric vehicle charging. Microgrids often are small scale, discrete self-contained electrical distribution systems that can enhance and support the reliability of the larger electric power distribution infrastructure. In recent years, microgrids have been adopted by entities that are already on the grid but want to ensure that they don't lose power during outages.
The case for integrating electric vehicles and microgrids includes the increasing reliability and effectiveness of microgrids while the overall reliability of the U.S. grid is declining, and the traditional utility upgrades have an 18-24 month time frame. 
Researchers at North Carolina State University and the University of Tennessee have each developed wide bandgap based medium-voltage power conditioning systems that enable microgrids to operate more efficiently, support wind, solar and energy storage integration, and improve the resilience of our electric infrastructure. The wide bandgap based microgrid power conditioning system is applicable to large-scale electric vehicle charging stations. A microgrid can be built and deployed at a fraction of the cost of traditional power providers, which makes them viable for fleet charging or in more remote locations.
Microgrids Could Also Meet Growing Demands of Ports and Maritime
Another transportation infrastructure in need of relief is maritime ports. Within the past 20 years, the international maritime market has been steadily growing due to the increased global demand for goods and resources and larger container and cruise vessels. Demand on power needed at ports was projected to increase dramatically from 2015 to 2024, up to 10x, according to Navigant Research.
PowerAmerica is partnering with Eaton, a multinational power management company, to develop a shore-to-ship medium voltage, silicon carbide converter system. A microgrid at a port would not only ensure power to the growing electrical systems that move goods on shore but also allow ships to plug into a reliable supply of power, what's referred to as cold ironing.
Silicon carbide-based medium voltage converters are highly efficient and can withstand high voltage compared to silicon-based converters, so with large-scale production, the electricity saving is significant. A medium voltage asynchronous microgrid power conditioning system has great potential for its adoption in the fast-changing power system architecture.
Infrastructure is the Ultimate Domestic Supply Chain
The Manufacturing USA network is engaging in projects that will improve the sustainability of underlying infrastructure. Building an ecosystem of companies that develop cost-efficient manufacturing for infrastructure and energy-efficient technologies will help create a dependable domestic supply chain.
In 2020, institutes in the Manufacturing USA Network collectively worked with over 2,000 member organizations to collaborate on more than 500 major research and development projects and engaged over 70,000 people in building workforce knowledge and skills in advanced manufacturing. State, industry and federal funds contributed $400 million to these activities.
To learn more about how these institutes are working to improve our critical infrastructure through advanced manufacturing, visit the Institutes' page.