Advanced Manufacturing vs. COVID-19
Immediately recognizing that advanced manufacturing can contribute to solutions for the pandemic, in March 2020 America Makes developed a plan to team up with the FDA, NIH, and VA and leverage additive manufacturing to fight COVID-19.  Other institutes followed with their own projects supporting the nation. 
In addition, NIST awarded $12.3 million in grants to five Manufacturing USA institutes to support high-impact projects for pandemic response, with funding authorized by the Coronavirus Aid, Relief, and Economic Security (CARES) Act signed by the President.
The opportunities extended by the institutes brought together government entities and the private sector to rapidly develop innovative projects that contributed to our nation's COVID-19 response efforts. These projects:
Expanded the production of needed medical countermeasures

Provided workforce training that responded to changing conditions

Increased testing capacity to track workplace infections

Helped manufacturers prepare for the future in the face of shifting economic realities
Along with these CARES-funded projects, Manufacturing USA, the manufacturing innovation institutes and the federal agencies that sponsor them — the Departments of Commerce, Defense, and Energy — as well as six additional partner agencies, have committed resources and facilitated coordination among institute members and communities to quickly pivot and augment their programmatic efforts in response to the pandemic crisis.
Here are some highlights from these advanced manufacturing efforts aimed at aiding the United States in its fight against COVID-19.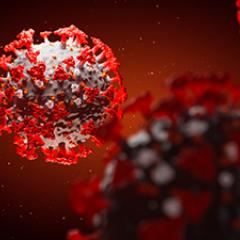 Additive Manufacturing, Biomanufacturing, COVID-19, Digital Manufacturing
The COVID-19 pandemic created a ripple effect for U.S. manufacturers that revealed not only a lack of redundancy in the supply chain but also a lack of transparency. As the pandemic took hold, worldwide demand for personal protective equipment (PPE) dramatically increased and many material and product costs skyrocketed. It quickly became apparent...