Wireless 5G Offers Flexibility, Mobility for Factories of the Future
Leaders from the innovation institutes in the Manufacturing USA network share how their efforts are helping the U.S. secure global leadership for emerging technologies in the critical strategic industries to help capture domestic manufacturing and lower hurdles for U.S. manufacturers to adopt these leading technologies.
Responses from Tony Del Sesto, Technical Fellow at MxD, who is focusing on 5G as a technical innovation in manufacturing for the Defense industry: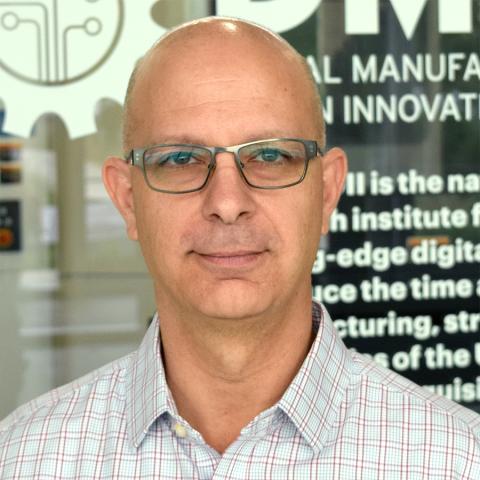 What transformative technological innovations is your institute working on related to any of these critical strategic industries?
MxD's mission is to promote the competitiveness of American manufacturers through the adoption of digital manufacturing innovations. One of the foundational concepts of digital manufacturing is connectivity. Without seamless communications, the ability to leverage Industry 4.0 benefits is not possible. This is true across all industries and types of manufacturers.
A key emerging enabler to manufacturing communications is 5G wireless technology. MxD, with help from our partners from private industry and the U.S. Department of Defense, is investing in the ability to test 5G in manufacturing environments. While most 5G conversations focus on technology alone, MxD will be focused on application. Manufacturing presents unique challenges when utilizing 5G compared to consumer applications. These challenges have both technical and business implications. Therefore, MxD concentrates on both proof of concept and proof of value when testing 5G for American factories.
What are the opportunities that these innovations present? What's at stake?
Today's factories use wired connections for equipment and systems. Wired connections are easy to understand and they are reliable. However, when scaling wired networks for more capacity, wired networks become expensive to install and very inflexible. As American manufacturers continue their digital transformation journey, they quickly find that the amount of data, the number of devices, and the speed and flexibility required for agility can be restricted by wired systems. 
Wireless offers the flexibility and mobility required by successful factories of the future. The ability to scale in an agile manner is directly related to American manufacturing competitiveness.
However, not all wireless is suitable for all manufacturing applications. Both Wi-Fi and 4G wireless technologies have been available for over a decade. While these applications are used for office applications, they have not been pervasive in manufacturing environments. Manufacturers continue to be concerned about security and data integrity over wireless systems. When it comes to manufacturing operational technology systems, downtime is the enemy.
5G is the first wireless technology that can address the concerns of operational environments. The software-defined nature of 5G allows for flexible customization of networks to tailor to high bandwidth, high number of devices, and low levels of latency applications demanded of digitally enabled factories. 5G's enhanced security over other wireless technologies also offers increased cybersecurity implementations.
How does your institute help the U.S. capture the value added from these technological innovations in our domestic manufacturing and supply chains?
There are two hurdles slowing the implementation of 5G into American factories. The first hurdle is understanding the definition of 5G, which has different configurations depending on various parameters such as spectrum and architecture. These configurations have a direct impact on cost and performance. Much of the publicly advertised information is based around consumer application and marketing, which just adds to manufacturer confusion. MxD presents the different configurations of 5G in a neutral manner focused on manufacturing applications. This allows MxD to help manufacturers choose the right configuration for their application.
The second hurdle is risk versus confidence of 5G technology in an operations setting. Manufacturers would like to see objective data proving out the security and data integrity of 5G wireless before making investments for their business. Through its partnership with AT&T and the Department of Defense, MxD has 5G testbeds in the MxD factory located in Chicago. These testbeds allow MxD to test different 5G configurations in a manufacturing setting. With funding from the U.S. Army, MxD will be testing cybersecurity and data integrity for 5G use in operational technology systems. MxD will make objective and neutral data available for private industry and government to make informed decisions driving 5G installations.
What are the needs and opportunities your institute is addressing in building a skilled workforce to support these innovations?
Workforce development is a key component of MxD's mission. Digital technology cannot be implemented without people trained to install, operate, and maintain it. MxD has incorporated workforce development components into many of our projects, including those focused on 5G.
All planned MxD 5G projects have comprehensive "lessons learned" required in the deliverables. These lessons learned are shared with industry and government when the project is completed. In addition, one of the MxD 5G projects, "Wired to Wireless Change Management Guide," was recently released for public RFP and will be executed early next year. The output of this project will focus on the knowledge needed by manufacturers to implement 5G in their operations.
What are tipping points you see that will lead to more wide-scale adoption of these innovations?
As with any new product or technology, adoption is strongly related to supply and demand. Supply chain constraints have been affecting many industries, and 5G is no different. Key components can be difficult to obtain. However, as more capacity comes online and more vendors get products through required approvals, the supply picture has continued to get better.
Demand is closely driven by the manufacturing community's maturity in digital transformation. As more companies implement digital technology, the need for more bandwidth, more devices, and more flexibility will continue to drive the need for 5G wireless connectivity.
Lastly, having trusted, neutral data from a not-for-profit such as MxD will give manufacturers the confidence to install 5G technology. MxD data will be used to de-risk adoption by providing proof of concept and demonstrate return on investment by providing proof of value to both private and government stakeholders.
Learn more about MxD