U.S. has Established Leadership in Flexible Hybrid Electronics
Leaders from the innovation institutes in the Manufacturing USA network share how their efforts are helping the U.S. secure global leadership for emerging technologies in the critical strategic industries to help capture domestic manufacturing and lower hurdles for U.S. manufacturers to adopt these leading technologies.
Responses from Scott M. Miller, Ph.D., NextFlex's Director of Technology.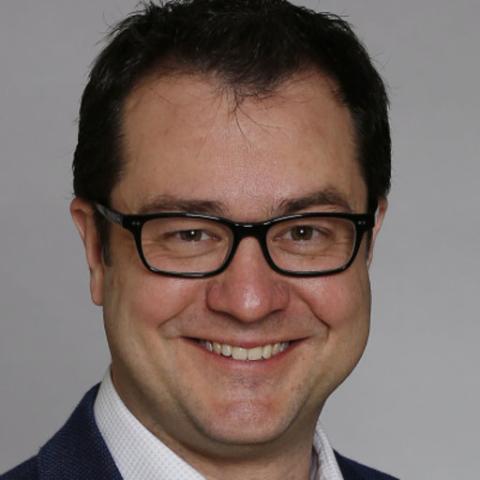 What transformative technological innovations is your institute working on related to any of these critical strategic industries?
NextFlex is advancing the technology and U.S. manufacturing capability for Hybrid Electronics, also called Flexible Hybrid Electronics (FHE), which is the field that enables the combination of printed / additive electronics fabrication and discrete electronic components, such as bare-die chips. FHE manufacturing enables electronics that can bend, twist, and stretch to take on new form, and provide new functions. FHE manufacturing also includes conformal electronics, built directly onto and into structures like body panels and radomes.
FHE is part of the broader microelectronics field and spans the conventional silos of microelectronics packaging and printed circuit board assembly. It has many applications, including:
Defense:

Communications systems, sensors, wearable devices for health and performance, and asset monitors

Health and medical security:

Wearable devices, including textile-integrated and stick-to skin devices for health and performance monitoring.  

Asset monitoring:

Structural health monitoring and asset condition tracking

Automotive:

Human machine interfaces for touch controls, interior lighting, sensing, and wire harnesses

Communications systems:

Array antennas, and soft robotics.
And critically, FHE is an important part of the field of microelectronics packaging, which is one element of the recently passed CHIPS and Science Act.  Opportunities to expand and accelerate use of FHE in areas closer to traditional semiconductor packaging are especially exciting.
What are the opportunities that these innovations present? What's at stake?
FHE is an emerging field that is projected to take off within the next two years, based on products that companies report having in active development.  There is not an established global manufacturing leader for FHE, and the U.S. is well positioned with leadership in R&D and manufacturers to support industry growth. Hence, the U.S. can claim the leadership position in this manufacturing sector without having to displace others. 
FHE manufacturing is particularly suited to U.S. manufacturing, because it aligns with high-mix/low-volume production and is not reliant on low-cost labor for economical production.  We need to move quickly to capitalize on this opportunity rather than ceding the leadership position we currently enjoy.
How does your institute help the U.S. capture the value added from these technological innovations in our domestic manufacturing and supply chains?
NextFlex has three lines of effort that help the U.S. capture value from the technological innovations in FHE.  
First, we bring together a large group of companies and researchers working in this area to align around common objectives and a shared vision. To this end, institute members have developed and continuously update shared roadmaps for the field, including identifying gaps in current state of the art, which NextFlex then funds projects to address. Those projects are carried out by teams of members that compete for funding; the teaming strengthens the ecosystem and supply chains.
Second, we operate a pilot line at our headquarters, the NextFlex Technology Hub, which serves to both develop the technology and prove manufacturability. This facility is accessible to members and U.S. industry. Learnings from that work are shared with members to elevate knowledge, and the developments – which are carried out for the Department of Defense, other government, and commercial clients – work toward technology transitions.
Third, NextFlex has education and workforce development programs ranging from our K-12 education program, FlexFactor®, that has deployed in schools around the country to attract students into STEM career pathways in FHE and other areas; to a learn-and-earn program to link community college students with regional employers; to programs for university students and the incumbent workforce that raise awareness and teach domain-specific topics in FHE technology and manufacturing.
What are the needs and opportunities your institute is addressing in building a skilled workforce to support these innovations?
As an institute working in an emerging technology area, it is important to raise awareness among the incumbent workforce so that the technology can be integrated into products. In addition, like many manufacturing sectors, companies in FHE have an acute need for skilled technician-level workers in many regions of the country. NextFlex is working to support the development and growth of the regional manufacturing workforce with programs and partners around the country, through programs that link students, schools, and manufacturers.
What are tipping points you see that will lead to more wide-scale adoption of these innovations?
FHE is at a tipping point now. Two of the critical needs for accelerated adoption are development of standards for FHE devices and greater availability of data on proven long-term reliability. Efforts to address both are underway. As FHE products scale up and become more widespread, fast followers will begin to move into the field, which will enable exponential growth.
Learn more about NextFlex