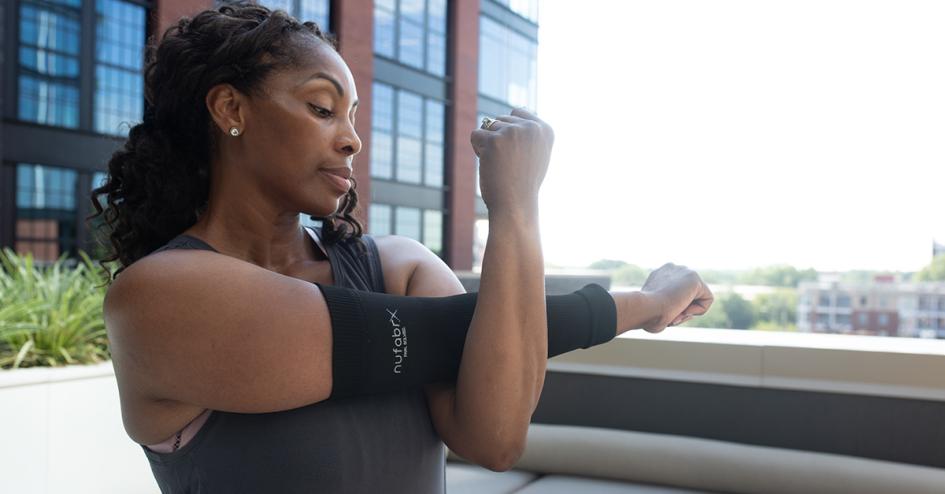 An entirely new category of wearable technology, HealthWear, is on retail shelves near you. It includes products such as wool socks that relieve pain and prevent shin splints, and spandex elbow compression sleeves that dispense medicine.
The breakthrough technology was developed by Nufabrx in partnership with AFFOA, the DoD-sponsored manufacturing innovation institute and a member of the Manufacturing USA network.
Nufabrx is a proprietary biomaterial platform that embeds active ingredients into fabrics at the yarn level. The infused fabrics respond to the body's temperature and moisture, allowing wearers to benefit from a long-lasting dermal release of Capsaicin medication and copper into the skin. Vitamins, supplements, and medicines can be infused into the platform to help relieve pain from arthritis and tendonitis.
Nufabrx's first product was a bamboo pillowcase embedded with tea tree oil and lavender that treated skin during sleep. The company founder suffered from acne issues, and when he learned that traditional pillow cases contributed to the skin condition, he went to work on finding a solution. It took seven years, but once he found partners at MIT and AFFOA, he began elaborating the HealthWear category one fiber at a time. NuFabrx now sells products at big box retailers such as Walmart.
AFFOA's collaboration with Nufabrx is an example of how advanced manufacturing increasingly plays a critical role in the U.S. innovation ecosystem, supporting U.S. technological competitiveness and driving product and process improvements that strengthen the U.S. economy.