Additive manufacturing force, TV host, Lego enthusiast
For Ashley Totin, former Senior Project Engineer at America Makes, her career really began with a conversation she had with her high school math teacher during her sophomore year. 
Teacher: "Ashley, do you enjoy math?"
Ashley: "Yes, I love math!"
Teacher: "Science, too?"
Ashley: "Yes, math and science are my two favorite subjects."
Teacher: "Have you ever looked into engineering?"
That was all it took to open the door to the world of engineering – a world Ashley never even knew existed. As she embarked on her freshman year at Youngstown State University, she discovered there were virtually unlimited career opportunities available as an industrial and systems engineer in the increasingly high-tech manufacturing industry.
"I was blown away that there were hundreds of manufacturing facilities within a 50-mile radius of where I lived," she says. "You know, nearly everything we come into contact with in our daily lives has passed through a manufacturing facility. I went on as many factory tours as I could, to see these huge machines, assembly lines, and hard-working people make all this amazing stuff."
It didn't take long for Ashley to fall in love with manufacturing, especially when she saw her first industrial 3D printer while on a tour at the America Makes institute. She says today's additive manufacturing technology goes way beyond the first, small 3D printers that built small trinkets out of plastic.
"There are seven different additive manufacturing processes that utilize different materials," she says. "We can print with polymers, with plastics, with metals, with sand.  People are printing with food. You can print with living cells and tissue! There are so many opportunities to get involved in additive manufacturing, to do research, and to advance this technology."
Ashley was so inspired by her tour at America Makes that she applied for an education and outreach internship at the institute, in an effort to help the organization raise awareness of additive manufacturing and advance the technology for manufacturers.
"As an engineer, did I meet all the criteria for an internship that focused on workforce, education, and outreach, per the defined responsibilities?" She asks. "No. But I was hired for the position because of my passion and willingness to adapt. Later, I had the opportunity to develop an additive manufacturing curriculum for teachers and students so I could help them teach and learn the technology."
Childhood Toys Were the Building Blocks of Her Career
Ashley equates her love of additive manufacturing with her passion for building something out of nothing. She says her enthusiasm developed when she was a child  playing with LEGO® and K'nex® building sets, as well as crafting.
"I love that sort of creativity where you start with nothing and get to something amazing," she says. "I loved instruction manuals and putting things together. Much of additive manufacturing works the same way on a basic level. If you can think of something to create, you can design it and you can print it!"
Ashley says anyone with a passion for creativity, art, or for building should explore career opportunities in additive manufacturing. She points out there are 3D printers now being used to construct houses and in the medical industry to make prosthetics, teeth implants, and even Invisalign® braces.
"There's imagination that additive brings and complexity that lends itself to many career opportunities," she says. "Don't be limited. Let your imagination take you there. It's just expanding the possibilities."
"As an engineer, did I meet all the criteria for an internship that focused on workforce, education, and outreach, per the defined responsibilities?" She asks. "No. But I was hired for the position because of my passion and willingness to adapt."
Additive Manufacturing Plays Key Role in Retooling Local Manufacturing
When America Makes was founded in Youngstown, Ohio, 11 years ago, many of the area's big steel mills, formerly known as the "Rust Belt," had closed or shut down. Now there are many new businesses in the area, several of which are developing new additive manufacturing technologies through their membership at America Makes.
"A lot of people don't know that America Makes was the first Manufacturing USA institute to open in 2012," Ashley says. 
Its successful pilot paved the way for the launch of the network. The institute has played a major role in Youngstown becoming a national hub for additive manufacturing, and retooling Northeast Ohio to offset the decline of steel mills. There are America Makes satellite centers in Kansas and Texas.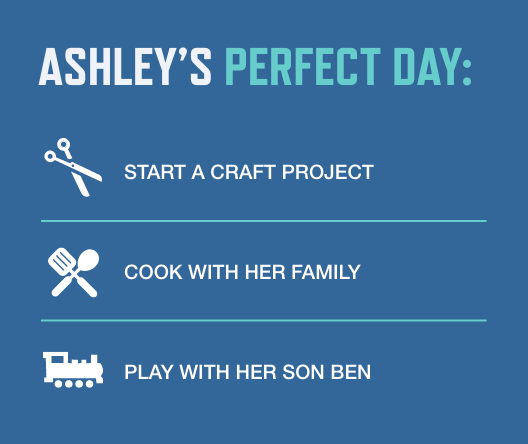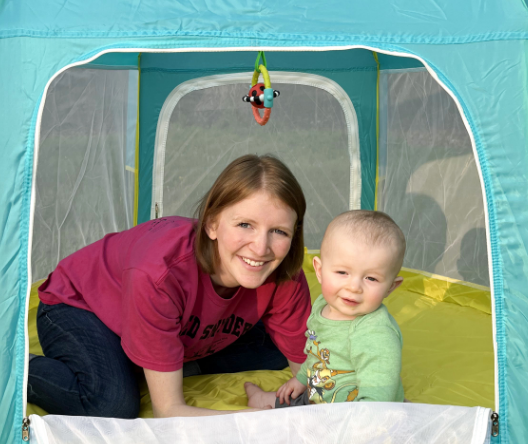 Let's Talk About Raising Awareness
After Ashley became a senior project engineer at America Makes, she wanted to expose additive manufacturing technology to her local manufacturing community and beyond. "It can be a huge hurdle for small- and medium-sized manufacturers to adopt this new technology, especially when they are trying to merge traditional manufacturing with additive," she says. "We're all working together at American Makes to move that needle forward."
In addition to her work in engineering, workforce development and business development, she has added TV host to her experience. Ashley is sharing her additive manufacturing message with her community through the local television program, Tech Belt Today. Every other Wednesday the show offers a segment that focuses on advancements in technology within the Youngstown community. For the segment, Ashley meets monthly with Youngstown technology stakeholders to learn more about what they're doing to advance the industry. Then these innovators are featured on the show and talk about their projects, programs, and initiatives.
"It's been amazing to see these small and medium manufacturers bid on projects as America Makes members, obtain funding, and then watch them grow," she says. "America Makes is associated with the Air Force Research Laboratory, so I guide these manufacturers on how to bid on Department of Defense contracts."
"The word AWARENESS is so important in this industry," she explains. "Just by making more people in our community aware of additive manufacturing, we're moving this technology forward."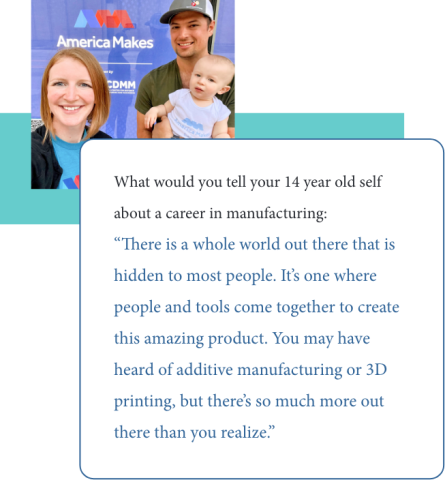 Advancing Women Forward in Additive Manufacturing
One of the many ways Ashley is advancing the industry is through the global women's organization of Women in 3D Printing, which consists of about 75 chapters all over the world. Members like Ashley serve as "ambassadors" of additive manufacturing at local events and activities, as well as virtual, global conferences.
"We just had our kickoff event at a local foundry, Humtown Products," she notes. "They were doing traditional sand casting, but now they're combining traditional manufacturing processes with binder jetting, which is when you 3D print the sand molds and cores that will be part of the traditional sand casting process."
The 3D printing ambassadors can network at these events and collaborate to organize other similar events through their own chapters. Ashley recently attended the organization's annual virtual conference, TIPE, which included women presenters from as far away as Africa and Australia.
"We're witnessing the adoption of additive as it is working in conjunction with traditional manufacturing," she said, "and it's wonderful to see."