Connector, sustainability advocate, outdoor enthusiast
So what's an outdoorsman like John Kreckel, who loves hiking in the Pacific Northwest, doing in the world of manufacturing? He's helping to advance more sustainable manufacturing technologies that not only help protect the environment, but that can help manufacturers become more profitable.
As the Director of Membership and Workforce Development at REMADE Institute, John connects Institute members with research activities and coordinates training for their workforce. John says about 30 percent of U.S. emissions come from industrial operations. He works with REMADE to drive advanced technologies that can cut emissions and drive profitability with efficient processes that reuse materials and products.
"There's a real value proposition for all of us to be in a more circular economy," he said. "We're shifting away from a linear economy where everything is 'make, use, and throw away.' Now we're using existing resources to put into new products, creating a new circular system where it's 'make and reuse.' 
"REMADE is doing this with a rubber-hits-the-pavement approach. We're finding practical solutions and leveraging advanced manufacturing technology to get results. This is really the first time an organization has been created like ours in the U.S."
"There are so many career opportunities in advanced manufacturing. Maybe you could help design a solar panel or find a way to make a sneaker recyclable or learn how to use robotics for city recycling."
From the Adirondacks to Advanced Manufacturing
John's appreciation for the environment and the outdoors began when he was an Eagle Scout, where he got to spend a lot of time in the Adirondack mountains. In fact, he became so passionate about the environment that he attended Vermont Law School to study environmental law.
After law school, he served as the Director of Economic Development on the staff of Congresswoman Louise Slaughter in Rochester, N.Y. One of her priorities was to help her district strengthen advanced manufacturing and workforce development, which meant working with area industries, universities, and community organizations to support local job creation.
He was often asked what advanced manufacturing is. John describes advanced manufacturing as a field that utilizes some of the most exciting technology in the world to make products better. "It's using math, using critical thinking," he said. "It's combining critical thinking to achieve your objective, which is exciting."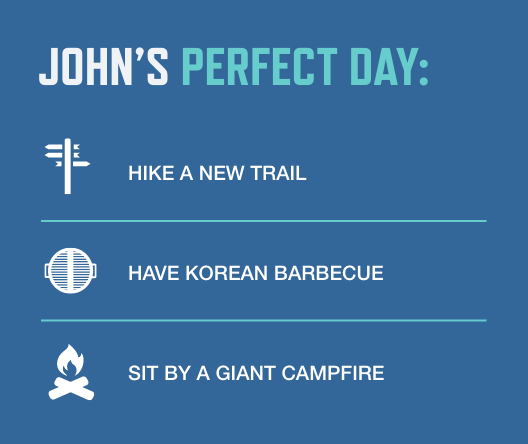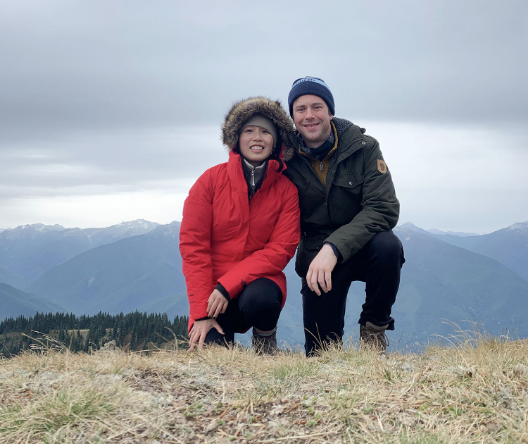 Building Momentum Toward Sustainable Manufacturing
While John worked in Congress, he spent a lot of time coordinating with organizations that were helping develop emerging technologies for manufacturers. One of those was the Rochester Institute of Technology, which was conducting advanced manufacturing research in the circular economy.
Through these connections, John became part of a manufacturing community, both in Rochester and across the country. REMADE launched in 2017, and John joined the staff soon after.
"I quickly realized how important manufacturing was to our community in Rochester," he says. "I witnessed ups and downs within our manufacturing community. But manufacturing is almost always the center point for the economy, and I learned you never bet against the American workforce. This is why I wanted to join an institute like REMADE, which is helping to drive technologies to make U.S. manufacturers more globally competitive.
"We're engaging leadership on the industry level, including decision makers. We're showing them that we can have a profound impact in this industry and our environment. We're beginning to expose this thinking to a broader audience."
Why a Career in Advanced Manufacturing?
John says one of the best parts of his job is the teamwork aspect, where he gets to work with incredibly intelligent colleagues who are all committed to developing new solutions for a circular economy through manufacturing.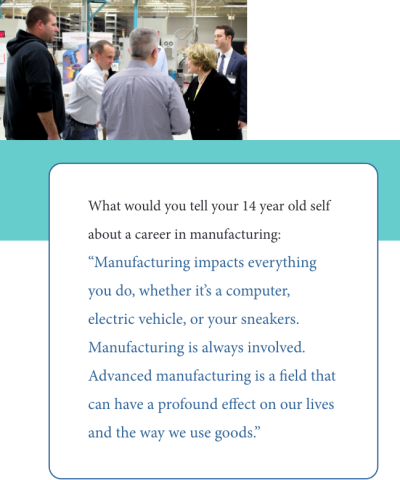 "Convening innovators, from large companies to small- and medium-sized enterprises and universities, we're bringing together the best minds in our country to address challenges," he says. "We work as a national consortium, so I get to work with people all over the country. I'm talking to someone in a different state on the phone every day. This entire country feels like a small community to me."
John gets to work with companies such as John Deere, Nike, Honda, and Michelin, which are all working toward reducing emissions and the use of plastics. He says when companies like these work together with universities towards one mission, it gets results.
"It's a rewarding field if you enjoy the people aspect and like to work with teams," John says. "There are so many career opportunities in advanced manufacturing. Maybe you could help design a solar panel or find a way to make a sneaker recyclable or learn how to use robotics for city recycling. From sneakers to automobiles, there's a chance that REMADE is working to make that product more sustainable in this circular economy."