Biomedical engineer, future bioinformatics designer, lifetime learner
Throughout her academic career, Rachel Swamy knew she would someday work in a science and/or technology-related field. Her career path began to take form when she attended a STEM career day, at the suggestion of her high school biology teacher.
"I had the chance to speak with female engineers and scientists, who seemed genuinely happy in their career." she says. "I think since that time I've always known I wanted to be an engineer."
Today, Rachel is the Research Associate for The National Institute for Innovation in Manufacturing Biopharmaceuticals (NIIMBL), where she works with a team of experts at the University of Delaware, along with some of the biggest players in the pharmaceutical industry, to collaborate, design, build, and test new technologies and equipment.
"I get to work with all types of bioprocess equipment used in the biopharmaceutical industry," she says. "And to think I had no idea what advanced manufacturing was when I was in high school! But I always knew that I loved science."
Learning as a Labor of Love
While finishing up her engineering degree at the University of Delaware, Rachel had the opportunity to work in a pharmaceutical contract development and manufacturing operation, which led to her first job right after graduation. She was able to gain laboratory experience and learn a tremendous amount about the pharmaceutical industry as a whole. However, she knew that she wanted to work in a more innovative research environment. 
"So when I heard about the Research Associate opportunity here at the University of Delaware, I decided to learn more about it, and I was intrigued by the goals of the lab, which involved advancing biopharmaceutical manufacturing," she explains. "It's funny, when I went to school here, I had no idea that they had this level of research going on at the university or the scope of it!"
Rachel describes her job as a never-ending learning opportunity. Currently, she's working with a buffer stock blending system, which is one of many new pharmaceutical manufacturing processes being tested and developed at the institute. This involves working with large machinery to produce large quantities of pharmaceutical chemicals in a shorter amount of time.
"With the buffer stock blending, what would take a day's work, we're learning how to complete in an hour's time with the new technology we're testing," she says. "At the institute, we want our member pharmaceutical companies to be able to adopt these new technologies, which will eventually become standard in this industry."
"I get to work with all types of bioprocess equipment used in the biopharmaceutical industry," she says. "And to think I had no idea what advanced manufacturing was when I was in high school! But I always knew that I loved science."
Accelerating Medical Manufacturing
The new technologies and equipment being tested at the Institute are only the beginning for advancing biomanufacturing processes, according to Rachel. 
In addition to her work at NIIMBL, she's pursuing a Master's degree in Bioinformatics. Bioinformatics is an interdisciplinary field that incorporates numerous software and programming tools, including machine learning and artificial intelligence. Rachel is learning how to analyze and interpret large complex biological data, such as genomic and DNA sequencing data. 
"Bioinformatics combines computer programming, data science, and biology." she adds. "I now have the opportunity to learn and to be involved in a variety of different aspects of biopharmaceutical manufacturing."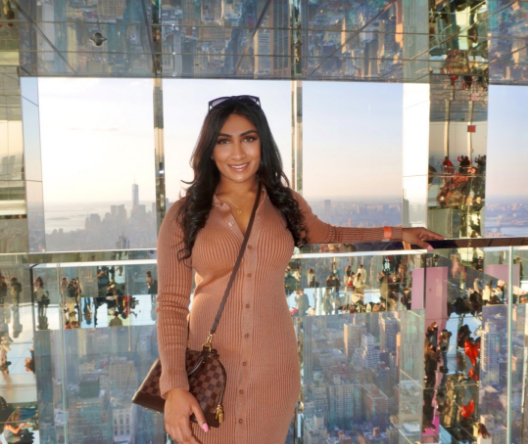 Collaboration Instead of Competition
Rachel says people are surprised to hear that researchers from different pharmaceutical companies are working together at the institute to advance manufacturing processes. She says some of the biggest players in the pharmaceutical industry are collaborating with her team at the manufacturing level for one common goal: Advancing manufacturing capabilities, so medicine can get to patients more effectively.
"It might seem strange to think of these big pharmaceutical companies working together for one common goal," she says. "But that's exactly what our member companies are doing here at the institute."
Rachel says this collaboration is helping establish a test bed for pharmaceutical companies to see new manufacturing technologies in the lab and test them out, with hope that they'll adopt these technologies within their industry.
"We've had numerous pharmaceutical companies here running their own tests and a series of experiments," she explains. "This reduces their cost challenges and certification risks associated with new technology adoption. At the institute, we're giving them a way to test new technology, before implementing it at their own companies."
Advice for STEM Students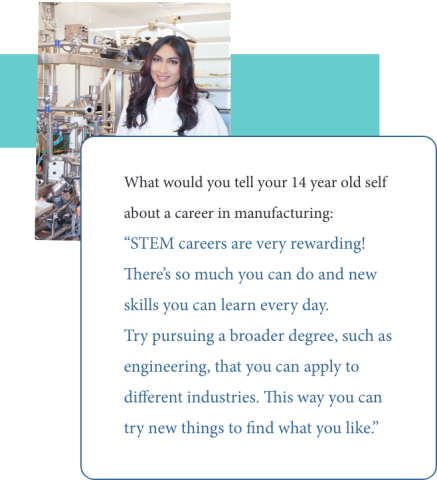 Rachel says that high school students interested in technology and STEM careers should look into advanced manufacturing, as it is the future of our technology driven world.
"If you're still in high school, you may not think manufacturing sounds appealing," she says, "but there's a lot to explore in advanced manufacturing. There are so many aspects and opportunities in this field including industries such as medical devices, pharmaceuticals, robotics and much more."
Rachel says one of the most exciting parts of her job is the opportunity to work with and learn from such intelligent engineers who are designing new manufacturing equipment and automation. She says a career in biomanufacturing is very rewarding and fulfilling because we are ultimately improving patient care by bringing new medicines and technologies to market faster.
"As an engineer, you get to work on developing solutions to real-world issues and utilize knowledge from a variety of fields. You are always learning new skills."