Entrepreneur, economic impact champion, nature lover 
Brenna N. Schneider is the founder and CEO of 99Degrees, a contract manufacturer of performance activewear and technology-integrated apparel. The company, based in Lawrence, MA, manufactures performance activewear, work wear, uniforms and other apparel for global and growth-stage brands. They also integrate sensors, electronics, robotics and hardware into textiles that makes it possible for manufacturers to produce tech-integrated apparel and wearable medical and industrial safety devices, such as exoskeleton suits.
99Degrees not only manufactures products, they also operate a research and development (R&D) center that specializes in Design for Manufacturing (DFM), rapid prototyping, and applied research. This ensures that apparel brands and technology companies are able to do the iterative work necessary to meet changing demands, evolve wearable technology solutions, and achieve the automation necessary to scale production. Schneider says the company is finalizing a lab to produce custom tooling, which will help apparel makers develop, pilot, and manufacture at scale tech-integrated products. 
Tech-integrated apparel is on a huge growth curve, and 99Degrees is at the leading edge in manufacturing by helping bring automation and robotics to the clothing and textile industries. 
The promise of an apparel company offering good jobs in a high-tech industry is something Brenna never could have imagined while growing up with a front-row seat to the decline in domestic manufacturing. But her passion for social impact and desire to understand economics and business development have led Brenna to this place. 
"When I heard the famous Ronald Reagan quote, 'The best social program is a job,' I thought, 'I think the best social program is a good job that offers economic mobility.'"
Finding Her Passion for Social Mobility
Brenna's parents were both graphic designers and they started a small manufacturing business that targeted museums and gift shops. Her mom worked with custom-branded apparel and embroidery, and dad worked with signage and displays. At one point they converted the attic in their home into a workspace, and Brenna helped with the business through her college years. She saw, up close, the devastating impact on domestic manufacturing as businesses sent their work offshore. "I wanted nothing to do with this industry," she says.
In college, Brenna majored in economic development and international studies, and quickly found a passion for business-led economic mobility. During her freshman year, she began working at the U.S. Department of State's American Studies Institute on a pilot immersion program for South Asian Muslim undergraduate leaders. Brenna spent a year in India on a fellowship, working for a non-profit that, ironically, helped textile workers. She also lived in a Buddhist monastery and in a Tibetan refugee settlement on the edge of the Himalayas doing economic research. 
Brenna also worked in a global business, entrepreneurship, and leadership program at the Iacocca Institute at Lehigh University. She earned an MBA with an emphasis in social impact while continuing to work and volunteer in social enterprise. She had found her calling.
"When I heard the famous Ronald Reagan quote, 'The best social program is a job,' I thought, 'I think the best social program is a good job that offers economic mobility.'"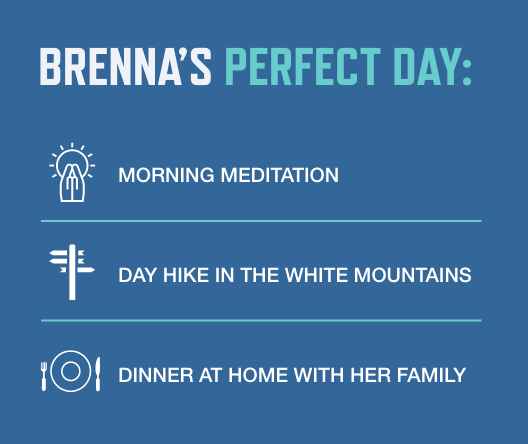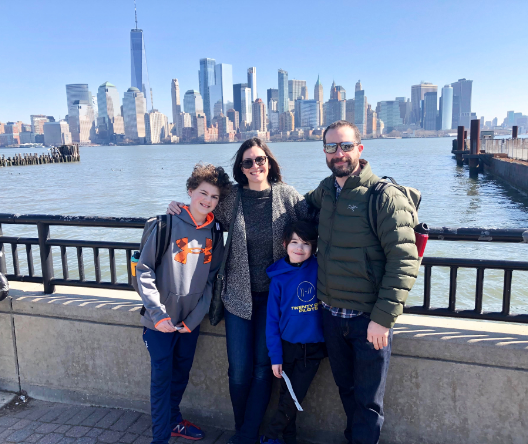 Company Closing Opens the Entrepreneurial Door
Brenna found her way to a full-time leadership position in Lowell, MA, working for an apparel manufacturer, which she described as a cut-and-sew factory. Despite improving production efficiency by 50 percent and doubling output in her time there, the company closed. Brenna had worked hard to create pathways for single parents to work at the factory, which at one time was among many in the region. Lowell is considered the birthplace of the U.S. industrial revolution, and the region's history of textile mills dates to 1793. 
"I was frustrated by the lack of opportunity in a region where so many people were willing to work," she said. "I could not believe what had happened to the American Dream and middle class jobs."
Brenna said she pondered her future while on a solo 17-mile hike in Colorado. She decided to start a company in wearable technology, and she applied for and was accepted into a startup accelerator to help develop her idea. Brenna imposed a timeline of four months to test her assumptions and answer two questions:
Could she scale an apparel manufacturing business in the U.S.?

Would it create economic mobility?
She earned a $7,500 prize from the accelerator, and with that and a couple of donated sewing machines, tables, and printers, a scrappy 99Degrees was born in 2013 in Lawrence, MA.
AFFOA Launches and Becomes an Invaluable Resource
99Degree's growth and traction coincided with the creation of the Advanced Functional Fabrics of America (AFFOA) in 2015, one of the institutes in the Manufacturing USA network. AFFOA's mission is to rekindle the domestic textile industry through fiber and fabric technology development and manufacturing. It is housed at the Massachusetts Institute of Technology, in Cambridge, MA. Brenna saw how the alignment of AFFOA's mission and proximity made it an attractive resource for her company, and they got involved with the institute from the start.
"AFFOA is a convener of an ecosystem," she said. "There are projects to develop specific applications – such as integrating LED fibers into running tights – and you also have access to resources to try out new technology."
Brenna says 99Degrees has participated in a number of AFFOA projects, including some for the military that she can't talk about. (AFFOA is sponsored by the Department of Defense).
Experiencing the Ups and Downs of Business
99Degrees grew quickly and moved into a renovated textile mill in Lawrence. They received many honors and recognitions, including the top prize of MIT's Inclusive Innovation Competition in the Human's and Machines category, and was named Massachusetts Manufacturer of the year. Lawrence is near an advanced manufacturing hub. While manufacturing traditionally was viewed in that region as a pathway to move "up and out" to reach economic stability, she quickly determined wearable tech could be the "up" without having to move out. 
But while 99Degrees pivoted during the COVID-19 pandemic to produce critical personal protective equipment (PPE) for the medical community, the pandemic had a devastating impact on the company, shutting down much of its production work and resulting in significant layoffs. The company is back on a growth trajectory and has about 120 employees.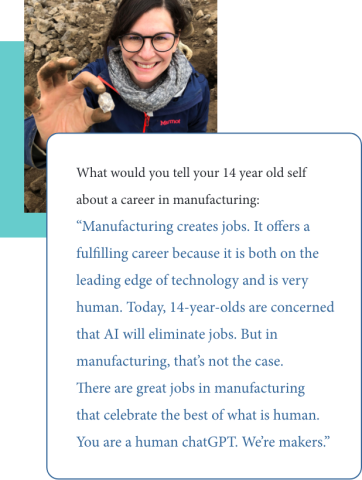 "Being an entrepreneur is not easy," she said. "For me, everything needs to work from a numbers sense and a human sense. It's a difficult balance with a lot of successes and setbacks." 
Recharging Through Nature
While Brenna spends a great deal of time running the company, she does have a life outside of work. When she has free time, you're more likely to find her outdoors. She begins her day in meditation, and she recharges through nature. 
"It's my way of taking care of myself," she says.
Brenna enjoys getting out to hike, bike, or camp, and at home she gardens and her family raises bees and chickens. Her favorite getaway is to the White Mountains, perhaps the most rugged mountain range in New England. Her family has a cabin in the White Mountains, and she loves making memories while backpacking and being outdoors.