Aspiring engineer, contest winner, performer
Lance Miller is a senior at Carnegie Mellon University in Pittsburgh who was president and design lead of a team which won in the 2022 ChemE Cube™ competition sponsored by the RAPID Manufacturing Institute.
He is completing his fourth year in a five-year Integrated Bachelor's-Master's program for chemical engineering. His undergraduate degree will include a minor in Operations and Supply Chain Management. He is not exactly sure where his future will take him, but he says he wants to pursue something in chemical engineering or operations, perhaps in process engineering.
Lance is also active as the vice president in the Carnegie Mellon chapter of AIChE, the global association of chemical engineers, serving in past roles of treasurer and secretary. He is also involved in a variety of activities on campus which put him on stage and make him comfortable in front of large audiences.
Applying Research in the ChemE Cube Competition 
ChemE Cube is a student competition of undergraduate university teams launched in 2020 by the RAPID Manufacturing Institute, which focuses on modular chemical process intensification. Teams design, build, and demonstrate a 1-cubic foot plant to produce a chemistry defined in the annual problem statement. Not only must the team complete the quantitative science-based challenge, but they also must develop a presentation, including an investor pitch, a video advertisement, and a product poster.
Lance joined the Carnegie Mellon ChemE Cube team in its infancy and was elected president. He devoted time to organizing members and communicating with several departments to gather expertise, seek advice on material purchases, and find a location to build and test their device. The team finished third in the 2021 competition. 
The 2022 challenge was to create a 1-foot cube water purification plant for less than $1,500 in materials that could purify at least 25 liters of surface water per day in a low-energy environment. The team, led by student leaders including Lance and Yerim Lee, did not settle for simply achieving the challenge, but finishing first in the 2022 competition. They worked hard to reduce cost and weight, which turned out to be their winning advantage. As the design team lead, Lance used his network from his past presidency and his senior-level course knowledge to focus on the technical requirements of the competition and refine their cube's process efficiency. He combined research techniques with what he had learned in a lean manufacturing role to shrink the cube's weight and energy requirements while keeping it safe and productive.
"I feel like I have a better lens of looking at the world through research," he said. "We might be finding the best way to use activated charcoal, or use a type of membrane. Or it's how to apply it to some task, we ask what are the limitations? If the models are a little bit off, how do we verify that? It's a lot of trial and error."
"At one plant, part of my job was to observe the Kit Kat bars rolling down the conveyor like an army of soldiers. The smells were so delicious – I would come home smelling like Kit Kat wafers."
A Summer of Sensory Overload at the Hershey Company
Lance worked one summer as an intern with The Hershey Company as part of the lean manufacturing team. He was based at the corporate headquarters but spent time working on projects at their nearby plants, assisting his group in change management projects while observing plant operations and looking for process improvements. For example, the process for changing production of a Kit Kat flavor might take more time than was optimal. Lance was part of a group looking at how to reduce the changeover time, and how to make any step easier in the process, from operations engineering to network data analysis to labor management.
And while he did come away with practical learnings about data visualization tools and software for scheduling, Lance described the experience as an overload of senses.
"I was enthralled by smells, walking through the Reese's factory, the raw peanut processes, peanut butter processing... At one plant, part of my job was to observe the Kit Kat bars rolling down the conveyor like an army of soldiers. The smells were so delicious – I would come home smelling like Kit Kat wafers."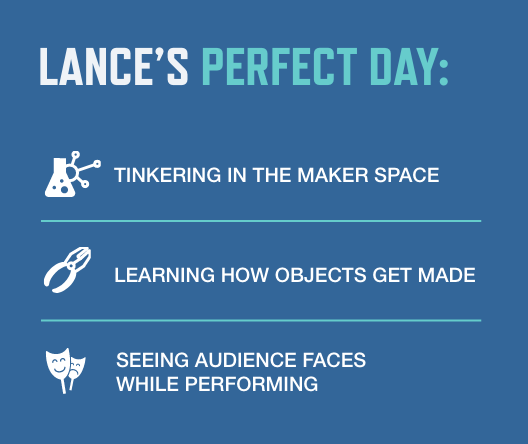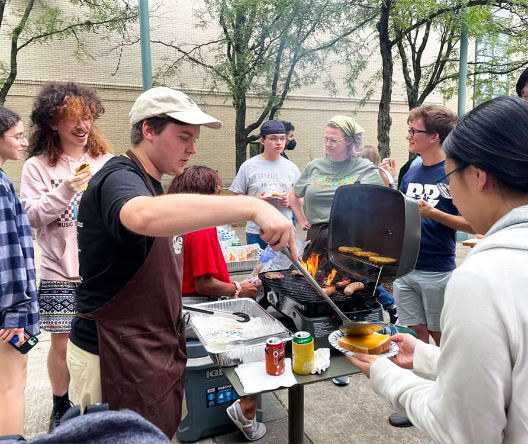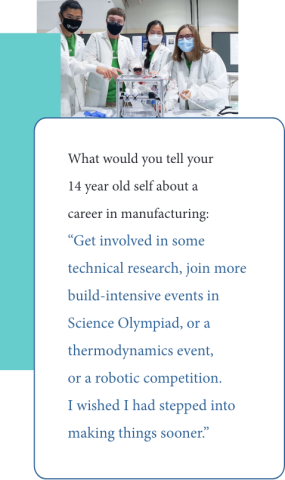 Making 'Moments of Goodness' In Teamwork or Performance
Lance enjoys teamwork and making things, and not just prototyping cubes, though he is happy to do that. It's a combination of the social aspect of working together with the desire to make people's lives better. "I enjoy making moments of goodness," he says, quoting Hershey's enterprise slogan.
In addition to his campus science and engineering activity, Lance is also a campus tour guide, and is a member of Scotch'n'Soda Theatre, a student-run theatre organization. He sings in both a jazz choir and a more classical choral ensemble, two groups with varying repertoire. "It's the teamwork producing a force of sound I enjoy, whether it's someone next to you singing something totally different, or the crunchy notes that are purposely a half step apart."
In theatre productions, he loves playing the villain roles, provided the villain does not prevail in the end. Lance has played Captain Hook in Peter Pan, Lord Farquaad in Shrek, and Mr. Boddy in Clue, a tycoon who blackmails his friends and staff. "I enjoy being a good person in real life, but on stage I love being the bad guy. It's a juxtaposition, and other actors tell me they feel most comfortable having a nice person playing the mean roles."