Mechanical engineer, tech in manufacturing, athlete 
Rodrigo Perez, manufacturing systems integration engineer at MxD, the digital manufacturing institute and National Center for Cybersecurity in Manufacturing, likes to call himself a convergent thinker. From mechanical design to robotic integration, he says, "digital manufacturing is the key to enhancing manufacturing and discovering manufacturing insight."
"I help manufacturers understand digital manufacturing and industry 4.0," he says. "I explain to those who have not gone digital, that with a plan and strategy, manufacturers will know how to use hardware and software to modernize machines that do not have the capability to produce data. Bringing these machines into the digital age can be as easy as equipping these machines with sensors. Then, after obtaining the data, you can use your machine data to help increase your operational efficiency for example."
Rodrigo says his love of problem solving, along with a life-long passion for building, learning, and technology, is what led him to a career in engineering. He enjoys showing and educating manufacturers on how data can work for them to improve their processes on the factory floor and across multiple operations. He also helps manufacturers address the importance of cybersecurity so data doesn't work against them.
"If people know how to leverage data and how to protect data, we can solve a lot of  problems, starting with the manufacturing industry," he says. "MxD is a community and ecosystem where manufacturers can safely take first steps into the world of digital manufacturing, cyber security, the Internet of Things, and much more."
"I'm always learning and looking to try something new, both at and outside of work. And I'm always looking to take on a new project with a new challenge."
Constructing a Career in Engineering
Engineering didn't come across Rodrigo's radar until he was a teenager working in his father's construction business. While working on a construction site, he met an electronics engineer who gave him the opportunity to learn how to build control systems for inspection robots. He showed Rodrigo how to build circuit boards, machine components, and assemble entire systems up to final testing before shipping units out to customers. 
"As a teenager, I was very lucky to have that experience introduced to me," he says. "After high school I pursued a degree in mechanical engineering with an emphasis in Mechatronics, which is a field that combines mechanics, computers, and electronic disciplines."
At the same time, Rodrigo pursued many hobbies, from triathlons to fabrication, learning to code, and soccer.
"I'm always learning and looking to try something new, both at and outside of work," he says. "And I'm always looking to take on a new project with a new challenge."
Building on the Fly
Rodrigo has been tinkering and problem-solving from a young age. "I learned you have to be self-sustainable and build things on the fly." 
Now Rodrigo is carrying on his father's building tradition, as a digital manufacturing innovator. He recently helped his team build a "mobile token cell system" involving robotics, motors, computers, and sensors that collectively work like an assembly line. He says the goal is to show a portable manufacturing process from end to end while incorporating digital manufacturing.
This includes teaching tasks to a collaborative robot, then integrating the "cobot" to communicate to other parts of the system. The different equipment and technology in the cell work collectively to take raw material and process it through the cell.
"I love that my job has a continuous learning curve for learning new skills," Rodrigo says. "And I'm still finding time to build things on the side, like apps or modifying my motorcycle. I love learning new skills to apply on personal projects, it's exciting.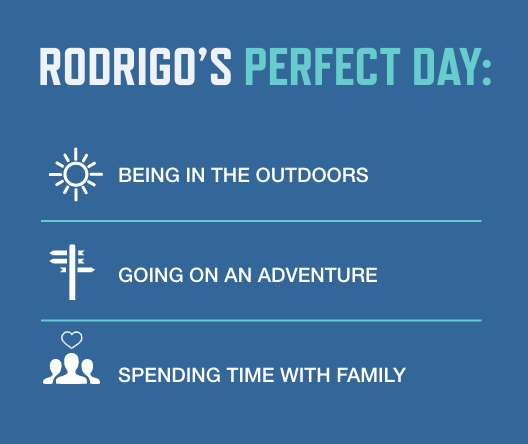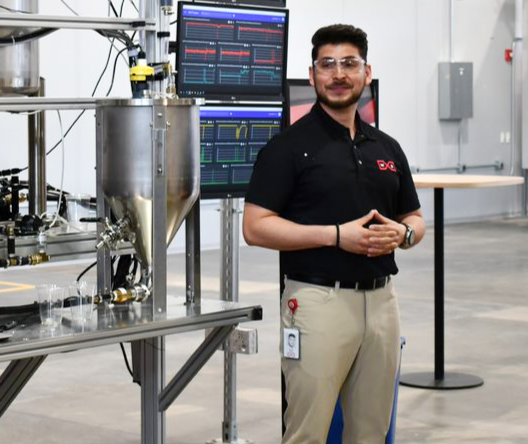 Modernizing the Manufacturing World
Rodrigo is developing digital twin technologies with data from manufacturing testbeds at MxD, which allows him to simulate or model complex processes. He focuses on innovation at MxD, where he has an opportunity to demonstrate to visitors and learners the art of possibility and use cases related to Industry 4.0.  
He also works to support and continuously improve other areas in MxD's future factory floor. He applies his expertise to update systems on the factory floor with the latest technologies. 
"Modernizing the manufacturing world is a collaborative effort," Rodrigo says. "And I work with amazing teams who understand that modernizing facilities takes a team to go digital. It's a digital manufacturing team!"
Making Time for Sports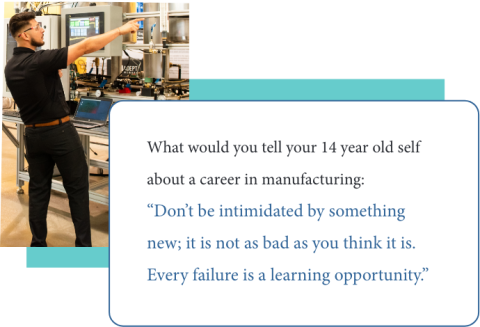 In addition to his other hobbies, Rodrigo enjoys soccer and triathlons. He's participated recreationally and competitively, and he says he adapts his skills for different events, much like he does on the factory floor at MxD. "It is always changing, so being adaptable and agile is key", he says. 
He says playing soccer and being a team captain also helps build team skills that he uses with his team members at the MxD institute. "The awesome team at MxD are great to work with," he says. "When you get to contribute to a team that has the same passion it makes a difference when working together; it's one of the best things about my job.